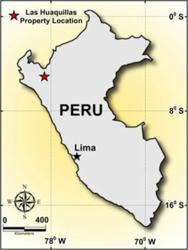 Vancouver, BC (PRWEB) April 18, 2012
(Financial Press) - Inca One Resources Corp. (IO.V) has recently engaged Rodney Stevens of Wolverton Securities to prepare a due diligence report as a third party validation of the company's progress towards obtaining its drilling permits. Once received, the company may begin a first phase drilling program on the Las Haquillas project in Peru, which has a historic resource of 0.4M ozs of gold and 5.3 M ozs of silver (0.6 M ozs Au Eq) averaging 2.09 g/t Au, drilled on less than 25% of the projected strike length of the epithermal vein system.
The report states that:
"After having been to the property and meeting with local representatives and local coffee farmers, we believe that the company has effectively implemented social initiatives which should result in receiving community support for the project, which is key in obtaining a drilling permit. We attribute this effectiveness to Mr. Kelly's past entrepreneur experience in the coffee industry and Mrs. Vargas' track-record of success including Norsemont Mining Inc. (acquired by Hudbay Minerals and Tinka Resources)."
"Since acquiring the property, the company has made significant in-roads in advancing the Environmental Impact Assessment (DIA) to obtain its drilling permit, which can be expected to be achieved within 6 months and potentially be drilling by September 2012."
The following time-line has been outlined:
1. Develop a Socio-Economic baseline study (completed)
2. Environmental Baseline Study (expected to be completed within 2 weeks)
3. Water Studies (completed)
4. Archeological Studies (completed)
5. Development of the Community Relations Plan (completed)
6. Develop a sustainability program (completed)
7. Estudio de Catastro (expected by Q2)
8. Develop the drilling application (expected by Q2)
9. Provide the files containing the drilling application to the stakeholders (expected by mid-May)
10. Run the Workshop (ie. present to stakeholders) (expected by mid-June)
11. Submit the drilling application to the ministry of energy and mines (expected towards the end of June)
There are two types of drilling permits in Peru: the DIA (Development Environmental Impact Statement – Declaracion de ImpactoAmbiental) and the EIASD (Environmental Impact Assessment – semi detailed) Estudio de ImpactoAmbiental Semi Detallado. The DIA is applicable for exploration programs that require a drilling campaign of up to 20 drilling platforms while the EIASD is for more than 20 platforms.Inca One is in the process of obtaining the smaller DIA permit.
Subsequent to receiving the Social and Drilling Permits, the company's primary objective would be to un-lock shareholder value through re-drilling some historic holes, including hole 97, which intercepted 78 metres from averaging 2.7 g/t Au from surface, and drilling off the full potential of the mineralization, which the report estimates might be in the 2-4 million-ounce range, based on presumed strike projections of the identified vein system.
A copy of the report may be obtained by contacting the company at: http://incaone.com/contact/report_sign_up/
Note: The historic resource was calculated in 1998 and the Company has not completed the work necessary to have the historical estimate verified by a Qualified Person. The potential quantity and grade is conceptual in nature and there is significant uncertainty as to whether future exploration will result in the delineation of a resource. The Company is not treating the estimate as a current NI 43-101 defined resource and the historical estimate should not be relied upon. The Project will require considerable future exploration which the Company intends to carry out in due course.
Inca One Resources Corp is a Canadian-based exploration stage company engaged in the acquisition, exploration and development of mining assets in South America.
Legal Disclaimer/Disclosure: A fee has been paid for the production and distribution of this Report. This document is not and should not be construed as an offer to sell or the solicitation of an offer to purchase or subscribe for any investment. No information in this article should be construed as individualized investment advice. A licensed financial advisor should be consulted prior to making any investment decision. Financial Press makes no guarantee, representation or warranty and accepts no responsibility or liability as to its accuracy or completeness. Expressions of opinion are those of the author's only and are subject to change without notice. Financial Press assumes no warranty, liability or guarantee for the current relevance, correctness or completeness of any information provided within this article and will not be held liable for the consequence of reliance upon any opinion or statement contained herein or any omission. Furthermore, we assume no liability for any direct or indirect loss or damage or, in particular, for lost profit, which you may incur as a result of the use and existence of the information, provided within this article.