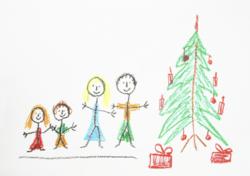 Bexleyheath, Kent, UK (PRWEB UK) 20 April 2012
Marstan Press, the family owned Kent based digital printing company today announced the launch of a new fundraising scheme for nurseries, schools and PTAs. The Marstan Christmas Cards for Schools project allows nurseries and schools to run a Christmas cards art project in class, and then have the designs professionally printed on Marstan's digital printing presses.
Nurseries, schools and PTA groups participating in the scheme get sent an information pack which includes full details on how to run and administer the project, along with promotional posters, a letter template which can be used to inform parents about their participation and a sample Christmas card. When parents order a pack of 12 Christmas cards they pay £5, whilst the nursery, school or PTA only gets charged £3.30, allowing them to make £1.70 on each pack sold. This allows most schools to comfortably raise £200, whilst the larger schools can push towards £1000 with this simple, yet engaging school fundraising scheme.
When asked why Marstan Press decided to set up their 'Marstan Christmas Cards for Schools' fundraising scheme, director Martin Lett Jnr said, "I saw a friend's son's Christmas card that he had designed at school and printed through a fundraising project last year. When I looked into how the scheme was run I thought that we could offer a better project utilising our existing digital print firepower and existing personalisation and scanning facilities."
With this vision to be 'better' than other schemes, the Marstan Christmas Cards for School fundraising project currently offers the best profit for the nurseries, schools and PTAs, and aims to provide the greatest flexibility. The Marstan scheme does not have a minimum order, nor does it insist that templates are used.
The Marstan Christmas Cards for Schools website went live on 16th April, with a range of promotional activities planned starting with a launch advert in the Spring/Summer edition of PTA Magazine.
Nurseries, schools or PTAs wanting to find out more about the Marstan Christmas Cards for Schools project can visit http://www.MarstanChristmasCardsforSchools.co.uk and should contact Martin Lett Jnr by emailing Info(at)MCCFS(dot)co(dot)uk or call 020 8301 7553.