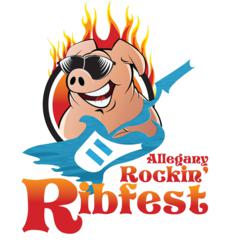 The festival is packed with fun for the whole family!
(PRWEB) April 19, 2012
The Seneca Salamanca Chamber of Commerce is presenting the 1st Annual Allegany Rockin' Ribfest at Veterans Memorial Park in Salamanca, N.Y. on Thursday, August 16 – Saturday, August 18, 2012. Professional, national, champion rib teams aka "Ribbers" will compete for trophies while offering their specially prepared foods to the public. The champion cooking teams include:
Smokin' Joe's Hog Wild Barbeque - Mansfield, OH
Smokin' Joe's Hog Wild Barbeque opened in 2002 after Joe Henderson retired with 30 year of service as the Food Service Manager at the Richland Correctional Institution, where 2,500 inmates were served three meals per day. We pride ourselves in the preparation of our ribs. Our ribs are first rubbed with a selection of dry spices and then slowly smoked with hickory wood. The ribs are then grilled and covered with our homemade sauce, which is sweet and tangy. We feel that our dry rub, hickory smoking and sauce provide the perfect combination. Hog Wild Barbeque has won over 50 awards including "Best Sauce", "Best Ribs", and "People's Choice". http://www.cantbeatjoesmeat.com
Two Fat Guys BBQ – Canton, OH
Two Fat Guys specializes in slow smoked Ribs, Pulled Pork and Beef Brisket. All meats are smoked with a combination of apple and cherry woods to give it a smooth natural smoked flavor. Two Fat Guys have won many awards for their Barbecue and their sauces. Given all the regions of barbecue across the country, including Carolina Style, Memphis Style, Texas Style, and Kansas City Style, Two Fat Guys have a passion for the Kansas City Style Barbecue. Kansas City style is known for the thick tomato and molasses based Sweet and Tangy Barbecue Sauces. The sauce is always served on the side. The reason for this is because they want you to see and taste the quality of their smoked meat. Two Fat Guys have a passion to make the best barbecue they can, with the best ingredients used in all their sauces, rubs and side dishes. Quality barbecue is the only option for Two Fat Guys. Two Fat Guys attend as many as 14 events each summer in Ohio, Pennsylvania, Indiana, and West Virginia. http://www.twofatguysbbq.com
Wells Hog Wild – Warren, PA
The best barbecue north of the Mason-Dixon! The five-time national award-winning Wells Hog Wild BBQ, based in Warren, PA, is northwestern Pennsylvania's premier caterer for Southern-style barbecue. They slow roast pork shoulders, whole pigs, beef briskets, chicken and ribs over a low hickory wood fire until it's lip-smacking tasty and so tender if falls off the bone. The Carolinas, Memphis, Texas, Kansas City—they got it all rolled into one at Hog Wild. Their 'cue is authentic, and their sauces and sides are all homemade. http://www.wellshogwildbbq.com
My Happy Place BBQ – Delaware, OH
Lisa Stephens and Jacob Kristensen from Columbus, Ohio have BBQ in their blood. Lisa has long been a part of her dad's award-winning team Sgt. Oinks BBQ out of Tiffin, Ohio. Lisa's grilling partner and husband Jacob has also logged countless hours working for Sgt. Oink's BBQ and another Rib Cook-Off competitor, Sutphen's Texas Thunder BBQ. Together, they have already won countless awards in Ohio and Wisconsin, including "People's Choice," "Best Ribs" and "Best Sauce." Lisa and Jacob claim their ribs make the world a happier place and leave behind a trail of saucy smiles at each competition. http://www.myhappyplacebbq.com
SGT. Oink's BBQ Co – Tiffin, OH
Gary and Teresa Stephens of Tiffin, Ohio, have been competing in the barbecue circuit since 1992. Last year, the husband and wife team has own awards for "Greatest Sauce in America" and "Greatest Ribs in America." Sgt. Oink's BBQ sets itself apart by adding Black Jack oak into the smoker to infuse a unique flavor into the meaty ribs. A custom-made rib rub and three different sauce varieties made from scratch are the finishing touches to this sizzling duo's succulent ribs. To complement your barbecue feast, smother your bones in the Sergeant's "Dixie Sweet," "Old # 4," which boasts a smoky molasses flavor, or the "Mild but Wild" BBQ sauce! http://www.sgtoinks.com
Allegany Rockin' Ribfest will also feature great music including:
"The Spirit of Johnny Cash" - Harold Ford & The Cash Band featuring Laura Lucy as June Carter
For years, people have told the singer, Harold Ford, that he looks and sounds like the country music legend. "I'm not trying to sound like Johnny Cash. It's just the kind of voice I have. I'm singing his songs, but they are coming out like I am his brother. You wouldn't believe the comments I get on my appearance and my voice," he said. Ford finally decided to give in to what just came naturally. His shows have become a tribute to the celebrated singer with performances of Cash hits like "Folsom Prison Blues" and "Jackson." The band also features tribute artist Laura Lucy on vocals as June Carter, Sten Isachsen on lead guitar, Mitch Throop on stand-up bass, Peter Maine on drums and Les Wheeler on rhythm guitar. Harold Ford and The Cash Band will perform their Johnny Cash Tribute at Ribfest on Saturday, August 18 at 8 pm. http://www.thejohnnycashband.com
West of the Mark - Buffalo, NY
West of the Mark is an award winning band from Buffalo, NY. Founded in 2004, the band has been honored with several awards. The band has opened for 30 National Acts to date. The list includes: Diamond Rio, Dierks Bentley, Phil Vassar, Mark Wills, Josh Gracin, Lee Brice, Big and Rich, Gretchen Wilson, Cowboy Troy, Steve Azar, Heartland, Rhett Atkins, Flynnville Train, Luke Bryan, The Oak Ridge Boys, Josh Turner, and Laura Bryna. Other highlights include Marty Stuart, Confederate Railroad, Mark Chestnutt, and others. This band has an energy on stage that draws even the non-country music fans in. Playing hits from Garth, Kenny Chesney, Keith Urban, Dierks Bentley, Johnny Cash, Alabama and Waylon Jennings, the band strives to keep current with the latest hits (rockers or ballads) and paying tribute to those who paved the way for modern country music. http://www.westofthemark.com
Willow Creek Band - Dunkirk, NY
Willow Creek Band is a six piece hot country band performing in the Western New York and Northwestern Pennsylvania area. The group plays the top hits of today and yesterday. Combining harmonies and instrumentation, the group promises to show you a good time. Ron Carrington Jr., lead singer; Allen Harle, lead guitar and vocals; Joe Miraglia pedal steel guitar; Bill Woodfield, piano, keyboard and vocals; Tim Reed, bass guitar and vocals; and Jason Dorman, drums. Willow Creek Band has opened for Josh Turner , Miranda Lambert, and recently for Jason Aldean, Daryl Singletary. http://www.willowcreekband.com
The Blues Hounds - Irving, NY
Formed in 2006 the band has performed throughout the WNY area and was a finalist in the Blues Society Memphis Bound Competition. James JJ White, lead vocalist and guitar; Jeremy Keyes, harmonica and vocals; Ian Jimerson, lead guitar; Andy Romanek, bass; and Ray Hangen drums.
The Bob Hartle Band, Bradford - PA
Influenced by the sounds of Diamond Rio and Vince Gill, Bob Hartle, of The Bob Hartle Band, has played at venues throughout Northwestern Pennsylvania and Western New York area. Bob Hartle, lead guitar and vocals; Jeff Craig, drums and vocals; Robert Hartle Jr., guitar; and Felicia Lively, vocals.
The festival is packed with fun for the whole family! Ribfest will feature a kid friendly "Kid Zone" with bounce houses and face painting; art & craft vendors; and a variety of scrumptious desserts and specialty comfort foods will also be available. There is no admission cost. For more information on the 1st Annual Rockin' Ribfest and updated information, visit http://www.salamancachamber.org or call (716) 945-2034.