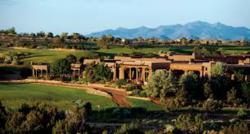 We identified Las Campanas as an irreplaceable, one of a kind community in a city with a remarkably high quality of life as well as an improving real estate market
-Alan Box, Partner, Cienda Partners
Santa Fe, New Mexico (PRWEB) April 18, 2012
Dallas-based Cienda Partners announces the purchase of all remaining assets of the Las Campanas residential community near Santa Fe, New Mexico from its lender.
Other investors in the purchase include Howard Hawks, one of the original property owners, through Hawks Campanas, LLC; and La Fonda on the Plaza Board Chairman Jennifer Kimball.
The acquisition includes premier building sites, all the remaining residential undeveloped acreage that has been approved for up to 319 homes, a 45-acre commercial tract, several homes and 174 full equity golf memberships.
"Because the acquisition of Las Campanas is debt free, it offers property owners, club members and the potential buyers in Las Campanas the stability we need," said Phil George, Las Campanas Club President. "Cienda's partnership and its new investment will help to kick start growth for us and for Santa Fe."
Originally developed in 1992, Las Campanas is known for its sweeping vistas, two Jack Niklaus-designed golf courses and proximity to Santa Fe. The golf courses are considered cutting edge in the Southwest regarding water conservation. A recently installed state-of-the-art sprinkler system has reduced water consumption on the two golf courses by 30%.
"We identified Las Campanas as an irreplaceable, one of a kind community in a city with a remarkably high quality of life as well as an improving real estate market," said Alan Box, Partner. "There is much growth ahead for this development and we anticipate its continued success as a wonderful place to live and own a home."
All amenities at the Club at Las Campanas including the clubhouse, spa, tennis and equestrian facilities are member-owned, self-sustaining and financially stable.
Santa Fe was recognized by Conde Nast Traveler in 2011 as the country's best cultural destination, rated by the World Health Organization as having the cleanest air in the continental United States, and has the highest density of artists per capita than any other city in the country. The City different is 400 years old and sits at the base of the Sangre de Cristo Mountains, enjoying over 320 days of sunshine annually and a population of just under 70,000.
###
About Cienda Partners: Cienda Partners is a Dallas-based real estate private equity group focused on opportunistic real estate acquisitions and investments. Since its founding in 2004, Cienda has successfully invested in multiple real estate enterprises and mortgage-backed securities covering a variety of asset types, including land, master-planned communities, office and multi-family. For more information, visit the website: www(.)cienda(.)com
About Hawks Campanas, LLC: Hawks Campanas, LLC, is an Omaha, Nebraska-based company that invests in New Mexico real estate and is one of the Hawks family real estate holdings entities.
About Las Campanas: Las Campanas is a luxury, master-planned Club community of 4,700 acres 6 miles west of Santa Fe, NM founded in 1992. Membership into the Las Campanas lifestyle offers two Jack Nicklaus Signature golf courses, the Las Campanas Equestrian Center, Spa & Tennis Center, and the Las Campanas Clubhouse. Las Campanas contains 17 exclusive neighborhoods—consisting of custom and semi-custom Pueblo-style residences with lock-and-leave convenience, crafted log-cabin homes, and pristine home sites.
For press inquiries, please contact:
Jennifer Hobson
JLH Media
505 603 8643
Jennifer(at)jlhmedia(dot)com