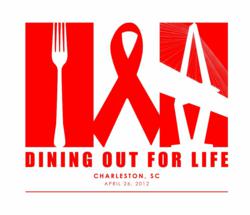 Most people know someone affected by HIV/AIDS," said Ella Fleming, Charleston Dining Out for Life co-chair. "Joining this palate-satisfying fundraiser will help improve the quality and availability of primary healthcare for those with HIV/AIDS."
Charleston, SC (PRWEB) April 18, 2012
Food and philanthropy are two things the people in the Lowcountry do well. On April 26, the second yearly Dining Out for Life event is combining these strengths to raise money for the Roper St. Francis (RSF) Ryan White Program— a federally funded program that helps coordinate comprehensive medical care for people living with HIV/AIDS.
"Most people know someone affected by HIV/AIDS," said Ella Fleming, Charleston Dining Out for Life co-chair. "Joining this palate-satisfying fundraiser will help improve the quality and availability of primary healthcare for those with HIV/AIDS."
The accompanying videos shows how the Ryan White Program has impacted one Ryan White patient's life.
Federally-funded Ryan White programs have been established in many communities as a result of legislation to improve availability of care for low-income, uninsured and under-insured people with HIV/AIDS and their families. The programs honor the legacy of Ryan White, an Indiana teenager with hemophilia who contracted HIV through a blood transfusion. White died in 1990 after fighting against AIDS-related discrimination and championing efforts to educate the nation about the infectious disease.
Dining Out for Life involves the generous participation of restaurants, volunteers and corporate sponsors. With more than 20 local restaurants last year, Dining Out for Life in Charleston raised nearly $45,000.
All money raised through Dining Out for Life in Charleston will go to the RSF Ryan White Program's Medication Endowment Fund, which provides emergency medication and medical care assistance to its patients.
The Roper St. Francis Healthcare Mission:
Healing All People with Compassion, Faith and Excellence
Roper St. Francis Healthcare is the South Carolina Lowcountry's only private, not-for-profit healthcare system. The 657-bed system consists of 100 facilities and services in nine counties. Member hospitals include Roper Hospital, Bon Secours St. Francis Hospital, Mount Pleasant Hospital and Roper Rehabilitation Hospital. Roper St. Francis Physician Partners is a comprehensive network of more than 180 physicians that covers a complete range of primary care and 20 subspecialties. With more than 5,300 employees, RSFH is Charleston's largest private employer. Ranked No. 41 among the Top 100 Integrated Health Networks in the nation, Roper St. Francis Healthcare annually earns numerous national awards recognizing high levels of patient, physician and employee satisfaction. For more information on RSFH, go to http://www.rsfh.com.