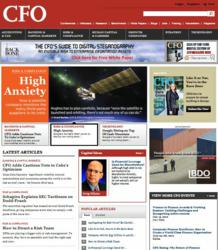 We strive for innovation and excellence for our readers and our advertisers as well
New York, NY (PRWEB) April 19, 2012
CFO.com was named the Best Magazine Website as part of the annual Internet Advertising Competition (IAC) Awards by the Web Marketing Association. The winners were selected by judging the entered creative using seven criteria - design, ease of use, copywriting, interactivity, use of technology, innovation and content.
Co-developed with Bridgeline Digital, developer of the award-winning iAPPS Web Experience Management platform, CFO.com won based on its new design that is straightforward, highly interactive and clean, inspiring easy exposure to information important to the magazine and its readers.
"It is an honor to receive the award for Best Magazine Website this year and it really validates the work that we've been doing," said CFO SVP of digital media, John Pal. "We strive for innovation and excellence for our readers and our advertisers as well."
CFO.com—with nearly 400,000 registered users—is a complete resource and tool kit for top-level finance leaders and serves as a trusted one-stop shop that informs their decision making quickly and reliably.
The Web Marketing Association was founded in Boston in 1997 to help set a high standard for Internet marketing and corporate web development on the World Wide Web. Now in its 10th year, the IAC Awards are the first and only industry-based advertising award competition dedicated exclusively to online advertising.
About CFO Publishing: CFO Publishing LLC, a portfolio company of Seguin Partners, is the leading business-to-business media brand focused on the information needs of senior finance executives. Delivering content through multiple channels including online, digital, mobile, and print, the business consists of CFO magazine, CFO.com, CFO Research Services, CFO Learning and CFO Conferences. CFO's award-winning editorial content and loyal, influential audience make it a valued resource for its readers as well as an effective marketing partner for a wide range of B-to-B companies. CFO has long-standing relationships with nearly a million finance executives.