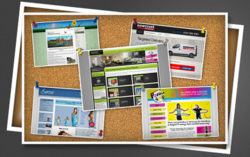 The design of your website should be appropriate to your product or company and stand out from the crowd
(PRWEB UK) 20 April 2012
Having a website is important for running a successful business. As markets become increasingly globalised it is important to be able to reach as wide an audience as possible and provide maximum convenience for potential clients. Internet marketing then, has become an easy and effective way of attracting clients and boosting profits.
Pritesh Ghelani, who works for Liquid Bubble web design in London has offered his top four tips for an effective website.
DESIGN
The design of a website should be appropriate to the product or company and stand out from the crowd. Although there are many free services online today which mean that it is possible to throw something together from home, it tends to make a site look more professional if the design is outsourced to a specialised company, allowing them to apply their expertise and making the company look more authoritative.
Make sure that you keep your content clear and concise and that your site is easy to navigate for even the most inexperienced web users and that you don't clutter it up with excessive images and garish colours. In this case, simple is definitely more effectual.
CONTENT
It is often prudent to hire a content writer to create the content for a site, or if you have the time and ideas, you could do it yourself. Again, keep content simple and provide a clear breakdown of the services on offer. Adding a short bio is often beneficial for establishing a good reputation and adding references or appraisals from previous clients can boost a company's image even further. Remember that the markets are often extremely saturated, so state just why it is that gives this company an edge over competitors
ECOMMERCE
Increasingly, business is done online these days, and so it is advantageous to implement an online ecommerce system on a website. This will ease the buying process for customers who will no doubt be impressed by speed and efficiency, encouraging them to return and helping to establish brand loyalty.
SEARCH ENGINE OPTIMISATION (SEO)
SEO is becoming a more and more important part of making sure that the website works effectively. The vast majority of internet users will use search engines like Google and Yahoo to search for products and services so it is vital that when they do your name appears at the top, which will set the site apart from the competition. Using keyword research and strategy, article submission and social media organisation, specialist SEO companies can implement this work. Effective use of SEO can make a huge difference to a website and can often help to significantly improve the effectiveness of an underperforming site.
These companies can provide detailed reports, outlining the progress and performance of a website by highlighting which SEO methods and keyphrases are the most effective.