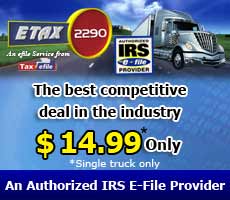 Visit Etax2290.com to e-file today!
(PRWEB) April 18, 2012
E-File and Payment services for the 2011-2012 Truck Tax Form 2290 and Schedule-1 receipt is now available for download through Etax2290.com. Etax2290 assists filers in obtaining a schedule-1 in minutes, and offers live customer support with a staff of experienced tax professionals.
Etax2290 is an exclusive excise tax e-file service from Tax2efile. Etax2290's web-based IRS Form 2290 preparation service helps truck operators and business owners to file their excise tax return in minutes. The service has many unique features for the tax payers' convenience. It helps fleet owners and tax professionals to complete their tax return electronically without any hassle.
The IRS started accepting the Form 2290 for Tax Year 2011-2012 on November 1, 2011. Etax2290 provides user friendly services with guided information to assist the tax payers in completing the filing process and receiving a Stamped Schedule 1.
With the new electronic filing system, truck owners do not have to visit local IRS offices to get a Schedule-1 receipt. IRS accepts electronic returns and sends out Schedule-1 with a watermark which tax payers can use to get the vehicle tags renewed. Etax2290 provides 24x7 online customer support that will guide the users through the filing process, and provide any needed assistance.
For Vehicles first used in March of 2012 the IRS e-file deadline for Form 2290 is April 30th, 2012. Visit Etax2290.com to start filing today. Late filers will incur a penalty so make sure to visit Etax2290 and File before the deadline.