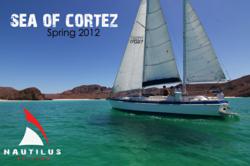 One of the best experiences I've ever had!
Crested Butte, CO (PRWEB) April 20, 2012
Nautilus Sailing, an award winning American Sailing Association school, recently announced that they have begun offering liveaboard sailing courses in the Sea of Cortez (also known as the Gulf of California), out of the historic city of La Paz. Jacques Cousteau, the world-renowned marine biologist, called the Sea of Cortez, "The Aquarium of the World." With a staggering abundance of marine life (over 5000 species), 900 islands, year round warm temperatures, and easy access from most major US Cities, trips have already proven hugely popular.
Tim Geisler, lead instructor for Nautilus Sailing, has just returned from their first three courses in the area. "People are loving the Sea of Cortez as a sailing destination. On the last trip we watched a whale breach only a couple of boat lengths away. We sailed through hundreds of giant manta rays, and students had the chance to snorkel with playful seals - absolutely amazing marine life!". Rob from Maryland, an avid diver who has explored dive sites around the world, said that swimming with the seals at Los Islotes, "had to be one of the best experiences I've ever had!"
Nautilus Sailing built their reputation offering liveaboard sailing courses in the Caribbean. For those that dream of renting sailboats in exotic destinations, or for those that want to learn to sail so that they can one day buy their own boat and set sail, liveaboard courses have proven to be key. Participants spend a week living onboard a sailboat with an instructor, exploring a spectacular sailing location. Over the course of the week, students go from no experience to competent sailors, learning everything from sail trim to operating the many systems on these beautiful vessels. At the end of the week, students take formal certification tests (through the American Sailing Association) and leave the boat with the credentials to embark on their own sailing adventures.
The Sea of Cortez is proving to be the perfect venue for Nautilus Sailing's newest liveaboard courses, with the first three courses selling out. Students fly into Cabo San Lucas and then catch a shuttle to La Paz, where they board a 42 foot sailboat for a weeklong adventure. Each day they visit several islands, explore secluded beaches, learn to sail, and if they are lucky, enjoy fresh fish tacos, from fish they caught that day. "Life time memories!" says recent trip participant Lyle from Colorado, "I didn't think it was possible to enjoy something so much...Our sailing certification will provide years of new adventures and opportunities!"