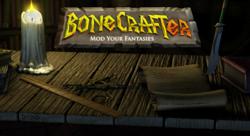 As a pioneer in the adult video game industry, D-Dub is excited about starting the adult modding community.
Albuquerque, New Mexico (PRWEB) April 19, 2012
The first ever mod kit to combine sex and fighting, BoneCrafter the Mod Kit, was released today by D-Dub Software. The highly anticipated BoneCrafter allows players to create their own content for D-Dub's January release, BoneCraft.
"As a pioneer in the adult video game industry, D-Dub is excited about starting the adult modding community," says Hod, D-Dub's C.E.O. "People love to mod their favorite games, and now programmers, artists, level designers, and musicians can take their talents to a whole new, sexy level."
BoneCrafter's easy-to-use mod tools will allow both new and experienced game designers to modify the existing game and generate exciting, brand new content to share with the community. The characters, world objects, terrains, sex positions, voices, and more from both BoneTown and BoneCraft will be at the modder's disposal, and D-Dub has opened a new BoneCrafter forum with some basic tutorials and places for modders to chat.
"We'd love to see growth in the adult video game industry," continues Hod, "so we want to start by giving people the tools to try their hand at it."
BoneCraft, which was released January 12, is the second PC release from D-Dub Software, the studio that brought you the risquè action-adventure parody BoneTown. The third person hack-and-slash shooter game follows Captain Fort Worth and his crew of Space Wranglers through encounters with naughty elves and racy robots, battles with Orc hoardes, and much more.
Any customer who has purchased BoneCraft can download BoneCrafter the Mod Kit for free at http://www.bonecrafter.com.
BoneCraft and BoneTown are currently available for the PC. Visit http://www.d-dub.com to purchase or to learn more about BoneCraft and BoneTown, and to view trailers, screenshots and wallpapers.
About D-Dub Software:
Founded in 2004 in Albuquerque, NM, D-Dub Software is not your average video game company. When they started the business, Hod, JB, and Max were recent college graduates and knew that they didn't want to be a part of the corporate culture. They have embraced the independent business spirit and developed BoneTown and BoneCraft by their own rules.