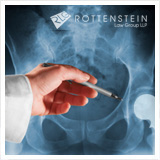 (PRWEB) April 23, 2012
According to a recent Reuters report, on June 27-28, the U.S. Food and Drug Administration will be asking an advisory panel of experts to take a closer look at metal-on-metal hip implants. "Though the FDA metal hip implant investigation is nothing new," reports Reuters, "it signals that the agency may be ready to subject the devices to stricter scrutiny."
After the August 2010 recall of 93,000 DePuy XL Acetabular metal-on-metal hips, the FDA ordered manufacturers to collect more post-implant safety data. Since then, the FDA has been investigating the safety of metal-on-metal hip implants and trying to decide if they should undergo more rigorous testing and premarket review. "Evidence suggests that such review may be necessary. A recent study from the National Joint Registry of English and Wales found that 6% of people with the implants needed additional surgery," reports Reuters. "This is high when compared to the 1.7 to 2.4% rate found in individuals with ceramic or plastic hips."
Rochelle Rottenstein, principal of the Rottenstein Law Group, implores anyone with a friend or relative who has received a dangerous medical device to reach out to that person and recommend that he or she consult a physician immediately and then speak to a qualified personal injury lawyer.
The Rottenstein Law Group maintains Depuy Hip Replacement Lawsuit Information site at http://www.depuyhipreplacementlawsuit.com. The site has features that allow for easy sharing, including links for automatic posting on Facebook and Twitter, specifically to enable visitors to spread the word about the DePuy ASR recall.
About THE ROTTENSTEIN LAW GROUP
The Rottenstein Law Group is a New York-based law firm that represents clients in mass tort actions. The firm was founded by Rochelle Rottenstein, who has more than two decades of experience as a lawyer, to represent clients hurt by defective medical devices.
Contact:
The Rottenstein Law Group LLP
Rochelle Rottenstein, Esq.
1259 Veeder Drive
Hewlett NY 11557
(212) 933-9500 (office phone)
(212) 933-9980 (facsimile)
rochelle(at)rotlaw(dot)com
http://www.rotlaw.com
---------