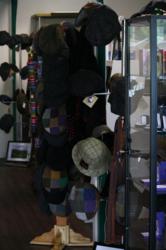 Manahawkin, NJ (PRWEB) April 20, 2012
Donegal Importers CEO John Murray announced today expansion of their retail location in Manahawkin, NJ. Mr Murray stated, "The demand for authentic products from Ireland and our online sales have required us to double our store space."
Mr Murray went on to say, "Fiscal 2011 sales were higher than expected. We ship product out world wide from our NJ location. However, if you would like to stop in and buy something small we have celtic custom jewelry $10 and barrys tea $8 right on up to luxury cashmere and wool blend capes at $500". We can order anything from Ireland and have it brought over in 5 business days."
Mr Murray concluded, "The Manahawkin Shoppes are newly opened and contain beautiful stores selling everything from carpeting to home made cakes. Its a nice way to spend the day with family and friends with ice cream and mexican food available. The Manahawkin Shoppes sit adjacent to the Manahawkin Flee market that was established in 1977".
Donegal Importers has offices in Dublin Ireland, Donegal, Ireland and Manahawkin, NJ. The company maintains call center operations in Dublin, Ireland and was voted one of the top 5 best places to purchase an online Christmas present by Irish Central.