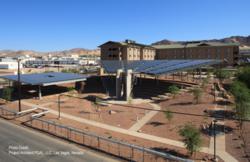 "We have a fine example in our third award of the military's growing use of solar technology." President and CEO of SEPA, Julie Hamm.
Straub Construction, Fallbrook, CA (PRWEB) April 20, 2012
The Solar Energy Industries Association (SEIA) and the Solar Electric Power Association (SEPA) awarded the recently completed BEQ-9 design-build project at Marine Corps Air Ground Combat Center at Twentynine Palms a Project of Distinction Award to the Straub – Martin Harris Joint Venture and Baker Electric Solar at the PV (photovoltaic) America West Expo in San Jose, California. The awards honor major achievements in the U.S. solar energy marketplace.
More than 80 entries were evaluated by an independent panel of judges representing associations, consultants, distributors, government, integrators, manufacturers and utilities. To qualify for the awards, projects had to be operational and demonstrate a collective benefit to the community and innovative use of policy and financing to enhance the project's impact.
The overall BEQ-9 construction project includes a 1.5 megawatt solar energy system for the three 4-story BEQs (576 two-person rooms), a landmark projection tower, 500-seat outdoor amphitheater and 706-space 4-story parking garage. The BEQ-9 solar project features 4,680 SunPower® E19/318 Solar Panels. The four photovoltaic installations generate on-site solar electric power reducing energy costs for the military base while providing premium shading for the two parking areas, amphitheater and recreational park.
Advanced 3D-modeling ensured that every module installed is usable, produces power and preserves the architectural aesthetics. The PV system is successfully integrated to the building management system. The weather station, inverters, and system performance meters are all synchronized with the military base central control panel.
In reference to General Wesley Clark's (U.S.A. retired) keynote address, President and CEO of SEPA, Julie Hamm said at the awards presentation, "We have a fine example in our third award of the military's growing use of solar technology."
"These are exciting times for the U.S. solar industry and the recipients of these awards show energy innovation at its best. From community-based solar to schools and military buildings, these remarkable projects show that solar is working and Americans are moving toward affordable, clean and sustainable power," said Rhone Resch, SEIA president and CEO.
Building for Excellence
The Straub/Martin-Harris joint venture was formed in August 2008 to leverage the combined experience of both firms in Design-Build, LEED, Value Engineering and Best Value construction delivery methods. Both companies share markets in Arizona, New Mexico, Utah, and Colorado. The Straub/Martin-Harris JV and PGAL (Project Architect) are also currently performing as the Design-Builder for the new Marine Corps, Quality of Life Facilities Package 4 (BEQ, Support Facilities and Dining Hall) at MCAGCC Twentynine Palms, CA. Straub Construction is located at 202 West College, Fallbrook, CA 92028. (760) 414-9000. http://www.straubinc.com. Martin-Harris is located at 3030 South Highland Drive, Las Vegas, NV 89109. (702) 385-5257. http://www.martinharris.com. PGAL's corporate office is located at 3131 Briarpark, Suite 200, Houston, Texas 77042. (713) 622-1444.
# # #