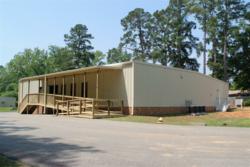 Longview, Tx (PRWEB) April 18, 2012
One of the greatest challenges of our time is access to quality, affordable healthcare. In east Texas, Wellness Pointe offers family health services in several locations in Longview, Kilgore and Gilmer. In 2009, officials with Wellness Pointe identified a critical need for additional space for its family medicine practice in Longview. With budgets strained, Wellness Pointe contracted with Icon Construction for a modular building for the sole purpose of providing family medicine.
The Icon Construction team worked closely with Wellness Pointe to custom design a modular building that would satisfy the needs of the community and also do so in a cost-efficient manner. When construction of the modular units was completed at Icon's state-of-the-art manufacturing plant in Durant, OK, they were transported to Longview and assembled into a 5,358 sq. ft. modular medical office clinic. The Icon Construction team completed all phases of the turnkey project including a fire sprinkler system, steps, decks & ramps, as well as all utility connections. The new Wellness Pointe Family Medicine Clinic opened in the spring of 2010.