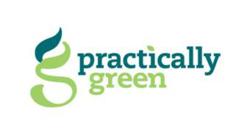 Cambridge, MA (PRWEB) April 18, 2012
Practically Green, the company that provides fun and effective sustainability engagement programs to organizations, announced today that Practically Green was selected as one of the Great Green Ideas of 2012 by the organizers of the Fortune Brainstorm GREEN Conference. Founder Susan Hunt Stevens will be presenting this morning along with four other start-ups in the sustainability sector including Lit Motors, Halotechnics, Healthy Planet Partners and Mountain Hazelnut Group. The Fortune Brainstorm GREEN conference is the leading national conference on business and the environment and draws a diverse cross-section of Fortune 500 CEOs, leaders from the environmental movement, senior government officials, and provocative thinkers.
Practically Green was founded in 2010 by Susan Hunt Stevens, a consumer internet veteran who aimed to solve the complexity of sustainable living with a simple, but trustworthy digital tool that inspired people to take action. Practically Green combines expert content with social and game mechanics to make embracing healthy green behavior easier, faster, and more fun. GreenBiz recently named "Green Gamification" one of the top trends to watch in their annual State of Green Business report.
As companies increasingly embrace sustainability as a key corporate strategy, employee engagement becomes critical to success. Yet many sustainability leaders find existing education and engagement programs expensive, ineffective, time-consuming to implement, and difficult to scale. Practically Green is modeled after a digital corporate-wellness program, providing a turnkey, effective, and engaging program aligned specifically to each company's sustainability goals. Customers range from sustainability leaders like Seventh Generation and Organic Valley to large Fortune 500 companies.
Stevens is a frequent speaker on social media, gamification, and sustainability, including recent events for Social Media Week, SXSW Eco, and the Behavior, Energy & Climate Change conference. An online video of the panel will be available through the Fortune Brainstorm GREEN virtual conference.