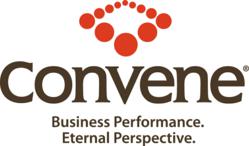 Don has the testimony among his peers of being a living example of the famous words of Saint Francis of Assisi: 'Preach the gospel. When necessary, use words.'
Newport Beach, CA (PRWEB) April 19, 2012
Don Menendez received the Infinitely Beyond Award from Convene, the premier Christian CEO and Business Owner forum organization, at their 7th annual CEO Summit in Newport Beach, California.
Selected from hundreds of members, Convene's Infinitely Beyond Award recognizes up to 3 members annually for the extraordinary life and work they're partnering with God to accomplish. The award is named from a scripture recognizing that God's plans and power are greater for us than we can imagine:
"Now glory be to God, who by his mighty power at work within us is able to do far more than we would ever dare to ask or even dream of—infinitely beyond our highest prayers, desires, thoughts, or hopes." Ephesians 3:20 TLB
Recipients have gone above and beyond in their businesses, communities and ministries. Each recipient is nominated by their peers and then their qualifications are reviewed and validated to confirm their exceptional service.
Don Menendez is a charter member of Convene team #34 of Birmingham, Alabama and the founder and CEO of White Plume Technologies -- a 12-year old firm that designs medical practice software capturing, billing and collection of charges to patients and insurance companies.
Don has the testimony among his peers of being a living example of the famous words of Saint Francis of Assisi: "Preach the gospel. When necessary, use words." He routinely extends himself to those in need around him in a God-honoring and self-sacrificing way. When a series of tornadoes devastated the state of Alabama last year, Don learned of a woman who had lost her car, had no insurance to replace it and would not be able to provide for her family without one. Don went to meet her, prayed with her and then donated his personal vehicle so that she could continue to get to work and provide for her family. This is only one of many stories of Don's selfless service that were recounted at the presentation.
Founded in 1996, Convene is a dynamic community of Christian CEOs and business owners meeting together to help each other build exceptional businesses, increase leadership success, and have greater Kingdom impact through the principle of "iron sharpening iron."