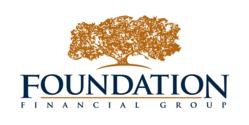 "Greg won the Cornerstone award in January 2011, having been in his position for only a month, and has pushed those beneath him to excel as well," said Foundation Financial Group's CEO Mark W. Boyer
Savannah, GA (PRWEB) April 18, 2012
Foundation Financial Group has announced the promotion of Gregory G. Ludwig to division general manager for the company's Savannah center, located at 17 Park of Commerce Blvd., Suite 202.
Ludwig, a Saranac, N.Y. native, has been with Foundation Financial Group for more than three years and this is his fifth promotion within Foundation Financial Group. Ludwig began his Foundation Financial Group career in Jacksonville, Fla. In 2011, Ludwig was promoted to regional sales manager in Savannah, Ga. where he was later promoted to section manager for consistently producing at a high level. There, he grew the Foundation Financial Group staff from 12 to 17 employees.
"Greg won the Cornerstone award in January 2011, having been in his position for only a month, and has pushed those beneath him to excel as well," said Foundation Financial Group's CEO Mark W. Boyer. "Greg has also reduced employee turnover at our Savannah center by 50 percent."
Cornerstone awards are given to the top revenue producer in the company across the entire U.S. The Cornerstone award is the most prestigious Foundation Financial Group award given to its salespeople. Ludwig is a graduate of Foundation Financial Group's Executive Training Program, designed for managers to enhance their skill sets for executive career growth opportunities.
Ludwig is active in community service projects including participation in a Be Her Freedom Run that benefitted the A21 Campaign, events helping the Boys & Girls Club of the Coastal Empire, a foster care fun day and a blanket bash for the homeless, among many others. Ludwig is also an active member of the Relate Church in Pooler, Ga.
About Foundation Financial Group
Foundation Financial Group, one of the nation's fastest-growing financial services companies, specializes in mortgage lending, property and casualty insurance, life insurance, retirement services, personal taxes and corporate tax services. Foundation Financial Group operates seven regional centers as well as a branch network of retail storefronts across the Midwest. Foundation Financial Group offers mortgage refinancing and first-time buyer lending through traditional financing, as well as Federal Housing Administration and other government-backed home loan programs. Foundation Financial Group enjoys an A+ rating from the Better Business Bureau, the highest accreditation the BBB gives, and an industry-leading Federal Housing Administration compare ratio. For more information, call 866-334-1001 or visit ffg.com.
###
For additional information, interview and image requests, contact The AXIA Public Relations Firm at 866-999-2942, ext. 700.