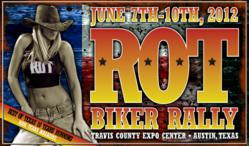 Austin, Texas (PRWEB) April 19, 2012
The Rot Rally is one of the biggest motorcycle events in Texas and one of the larger motorcycle events in the U.S. Over 200 000 motorcycle enthusiasts are expected to ride into Austin, Texas this June and transform the self proclaimed "Music Capital of the World" into a sea of all things motorcycle.
The event began in 1995 with a mere 4,000 guests and is now one of the largest and most well-known motorcycle rallies in Texas. The four-day Rot Rally starts June 7th and runs through June 10th 2012 at the Travis County Exposition Center in Northeast Austin, Texas and will feature top musical acts including Ted Nugent, Shooter Jennings, Gov't Mule, Kenny Wayne Shepherd, A Thousand Horses, etc and a Rot Rally Exclusive with famous bike builder Jesse James.
New to this years Rot Rally is the Rot Passport. The Rot Passport will be given to all attendees at registration and includes discounts at local dealerships and a list of Rot Rally Hot Spots. Pop into the destinations on the Rot Passport and collect stamps. All attendees who get their passports stamped at participating locations are eligible to win a multitude of prizes including a guitar signed by Ted Nugent and Jesse James.
Russ Brown Motorcycle Attorneys and BAM, Free Breakdown and Legal Assistance for Motorcyclists will be in Austin, Texas for the Republic of Texas Biker Rally. Stop by the booth to get the BAM Benefit Card, join the BAM network of over 1.5 million fellow motorcyclists and get a stamp for the Rot Passport.
Russ Brown Motorcycle Attorneys
We Ride We Care We Win