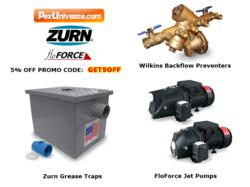 For best grease interseptors, grease traps, backflow preventers, jet pumps and air cleaners price use 5% off our discount code.
New York, NY (PRWEB) April 20, 2012
Pex Universe, a complete online plumbing and heating distributor, has released the news that Zurn Grease Traps, Wilkins Backflow Preventers, FloForce Jet Pumps and Honeywell Air Cleaners are now part of their extensive product offerings.
Zurn Grease Traps are an important part of environmental protection by recovering all the grease and oil from the drains of restaurants and commercial food processing companies, preventing it from entering the sewer systems. Grease, mixed with rotting food matter, when allowed to enter the system, can build up in sewer pipes causing them to become clogged and back up. PexUniverse.com is carrying, in their inventory, 13 different models of Zurn Grease Traps ranging in size from 7 GPM with a 2 inch inlet and outlet diameter, right up to 100 GPM with a 4 inch inlet and outlet diameter. Three sizes, 20, 30 and 50 GPM are also available in low profile models. Free shipping is provided with all grease traps of 20 GPM and higher.
Wilkins Backflow Preventers are essential in protecting drinking water from cross contamination from non-potable sources as the result of back pressure. PexUniverse.com is now carrying seven different model series of backflow preventers in three categories which are reduced pressure principal assemblies, double check valves, pressure vacuum preventers and dual check vacuum preventers. There are several models to choose from in each group.
Flo Force jet pumps are available in two styles which are shallow well jet pumps and convertible jet pumps. All models are dual voltage (120/230 Volt) and factory prewired at 230 Volt. They have durable powder coated housing with an adjustable pressure switch that is preset for 20 to 40 PSI of pressure. All jet pumps have legs for easy mounting on any flat surface. Jet pumps for shallow wells are designed to work at depths of 25 feet or less and are operate best in areas of high water tables like ponds and lakes. Convertible models have an outside ejector and are designed to operate in two modes; shallow for wells of 25 feet or less and deep well mode for well depths of 25 to 82 feet.
Honeywell Air Cleaners are now carried in four different models. Honeywell air cleaners are the very best quality air cleaners available for residential use today. The models now being stocked for immediate delivery are the Honeywell F 100 Series, basic media air cleaner for the whole house with a MERV 11 rating, Honeywell F 200 Series, an advanced air cleaner for the whole house with a MERV 13 rating, the Honeywell F 300 Series, an electronic, whole house air cleaner with an estimated MERV rating of 12-14 and capable of capturing up to 99 percent of all airborne particles. This unit comes complete with a 5 year warranty and a Clean Coil guarantee. The selection is crowned by the ultimate in whole house filtration units; the Honeywell FH8000 TrueCLEAN Series. The Honeywell TrueCLEAN systems features a technologically advanced, 3 step, charge, capture and destroy, filtration system which not only captures 99 percent of all airborne particles but destroys them completely. This is a system unique from all the others which merely gather particles and confine them. The FH8000 is also backed by a 5 year warranty. They also carry a complete selection of all filter models of Honeywell Air Cleaners.
PexUniverse.com is a leader in the online plumbing and heating retail industry, headquartered in New York. Their extensive selection of product lines includes all of the Pex Products (http://www.pexuniverse.com/pex) such as Pex Tubing, Pex Manifolds, Pex Fittings and Pex Tools. They also provide all of the top brands including Everhot, Taco, Steibel Etron, Grundfos, Takagi, Little Giant, Honeywell (http://www.pexuniverse.com/hvac-iaq) and countless others. They also offer free shipping on all orders of 250.00 or more. To view the extensive product selection, please visit http://www.pexuniverse.com
For press information or for general contact:
PexUniverse.com
196 Henry St,
Hempstead, NY 11550
Tel 800-818-3201
Fax 800-818-3211
sales(at)PexUniverse.com