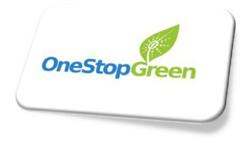 "These new updates improve the flow of the website and help us interact with our customers as well as publicize new developments better than ever before," says Liz Newman.
Houston, Texas (PRWEB) April 19, 2012
One Stop Green has developed and integrated new features into the website in order to provide better service to their customers. OneStopGreen.com now has new features available including an updated live chat client and twitter feed integration.
In an effort to increase communication, One Stop Green has invested into the latest live chat technology to be able to speak to potential customers browsing the website and answer questions about various One Stop Green products and services. Now at the click of a button, you can easily talk to one of their Green Geniuses who can answer almost any question you throw their way. Got a question about potential energy savings of an LED light bulb? Simply click on the live chat icon available on the homepage and every product page to instantly be connected and conversing with a Certified Green Expert.
OneStopGreen.com consistently tries to maintain a balance between informing the consumer as well as providing actual solutions to address and mitigate problem areas. That's why One Stop Green offers a number of free tools including an Energy Calculator, a Create and Manage your Own Green Project, and perhaps most importantly a FREE mobile application that allows users to conduct energy audits directly from their mobile phones. It is with this very same goal that they have integrated a twitter feed into the website. Now, you can keep up with all the latest news about everything 'Green' because One Stop Green constantly tweets about news, tips, and more! "The purpose of the twitter feed," says Nathan Kaufman, One Stop Green's website administrator, "is to keep consumers engaged about current news and events in the green space, by offering them a convenient and easy mechanism in which to do so, without ever having to leave our site." In addition to the twitter feed integration, One Stop Green also added a number of design elements with the aim at improving the overall user experience on the site. This includes simpler website navigation as well as structural changes within categories.
One Stop Green, LLC facilitates environmentally friendly improvements to residential and commercial properties through distribution of green, energy efficient products and services. They offer every product needed for sustainable energy independence enabling homeowners, businesses and commercial property owners to master their usage by reducing waste and implementing efficient energy consumption methods. Their goal is to provide user friendly and practical long-term solutions to existing inefficiencies and their carefully selected products and professional installers offer a higher level of satisfaction and service for their customers.
Contact:
Nathan Kaufman
http://www.OneStopGreen.com
P: 877.449.9110|O: 713.541.2739|C: 210.846.5900
###