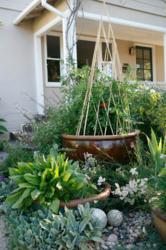 Everyday can be Earth Day as people just plant something and help restore and replenish Mother Nature's perfect rhythm and balance.
Philadelphia, PA (PRWEB) April 19, 2012
Decades after Earth Day launched in 1970, support for a cleaner earth, air and water for us and future generations has adherents from boardrooms to bedrooms throughout the world.
"As we have long said, the best way we can all be better stewards of the earth is to 'just plant something'," says Susan McCoy, garden trendspotter and green living expert with the Garden Media Group. The award-winning Philadelphia-based public relations and marketing firm has been representing the garden, horticulture and green living industries for more than two decades.
McCoy urges people to choose eco-friendly lawn and garden products that are safe for people, pets and the environment. "It's the right thing to do," she says.
According to the 2010 Cone Survey, 83% of consumers agree that doing the right thing is what they want to see from more brands, products, and companies who are supporting worthy causes.
With so many gardeners going green, a slew of happy garden products are landing front and center in retail stores to satisfy the growing demand for eco-friendly products that are good for the gardens and the earth.
Bring nature indoors with houseplants to clean the air and beautify any size home and office. Research indicates that besides providing amazing health benefits, many varieties filter volatile organic compounds (VOC's) like formaldehyde and benzene found in many homes and offices, release oxygen, and freshen, humidify, and beautify spaces. "'Whether you choose peace lilies, ferns, palms or orchids, "green up" your home and office with Mother Nature's natural air purifiers for better health and year-round beauty and enjoyment," says McCoy. Look for the 'O2 for You' displays at Lowe's Home Depot, and Walmart nationwide during the month of April.
One of the simplest ways to give back to the earth is to plant shrubs and flowers that provide food and shelter for beneficial wildlife like birds, bees and bugs.
"Share your love for the earth and beautify your porches, patios or decks with new dwarf butterfly bushes like Bloomtastic! Lavender Veil and Purple Splendor that have abundant fragrant flowers that cascade in containers or small spaces and attract hummingbirds and butterflies," McCoy says.
And for backyards and front yards, McCoy recommends native plants for beautiful color and to attract beneficial wildlife. Through a partnership with the National Wildlife Federation, a donation is made to NWF's Certified Wildlife Habitat Program with every purchase of an American Beauties native plant.
Go Au Natural. If Bambi and his friends are raiding veggies, berries and plants, rather than resorting to costly electric fences or toxic chemicals, McCoy suggests a better alternative that's safer for people, pets and the environment.
"Choose all-natural repellents like OMRI-listed Deer Off® that is compliant for use in organic gardening and safe to use around children and pets. It's the first repellent with a battery-powered sprayer that effectively repels deer, rabbit and squirrels from gardens."
Bottoms Up! Healthy plants start with healthy soil. McCoy discovered beneficial soil amendments like the new Soil Reef biochar that's considered by many scientists to be like a "coral reef" for soil. "Its high carbon content and porous nature help soil retain water and nutrients, saving gardeners time and money," says McCoy.
"Everyday can be Earth Day as people just plant something and help restore and replenish Mother Nature's perfect rhythm and balance," McCoy says.
For the latest garden news, visit http://www.blog.gardenmediagroup.com.