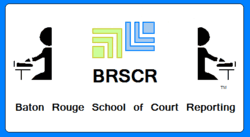 ...we have excellent staff to provide support and leadership across the board.
Baton Rouge, LA (PRWEB) April 19, 2012
Baton Rouge School of Court Reporting, LLC (BRSCR), founded as a partnership between Pamela Giardina and Karen Vornkahl in 2006, announces the retirement of Ms. Giardina effective in April 2012. Ms. Vornkahl says the mission of the school continues unchanged, with focus on training the next generation of court reporters. In addition to court reporting, the school also teaches CART (classroom) captioning and broadcast captioning, as well as scopist training.
According to Ms. Vornkahl: "Pam Giardina has been the guiding influence on the school from its inception, and she leaves it positioned to succeed for many years to come. She will be sorely missed, as the students truly love her, but we have excellent staff to provide support and leadership across the board."
Ms. Vornkahl has more than 25 years' experience in the court reporting field, working as a court reporter, scopist, proofreader, and teacher, in addition to a degree from LSU in Business Administrative. She moves from the administrative director title to become the managing director with oversight over all aspects of the school.
BRSCR teaches both machine writing and voice writing methodologies, with machine skills taught onsite at its Baton Rouge campus, and voice and other related programs taught online. The school has a full-time technology director to make online studies run smoothly, in addition to other qualified staff to oversee academics and skills. In addition to its Baton Rouge location, BRSCR is also majority owner of Professional Institute of Court Reporting, Inc., a machine court reporting school in New Orleans, Louisiana. Together, the two schools have certified more than 100 court reporters and counting.
While Ms. Giardina is retiring from full-time school administration, she will continue in an ad-hoc status for several courses she taught and enjoyed. And she won't be idle at home, continuing to work as a scopist and proofreader through Reporter's Choice, LLC, a scoping company she owns with Fabiola Evans, another former BRSCR staff member. Says Giardina: "It's a great way to retire while still keeping my hand in the court reporting world. I love my pajama job!"
For more information about court reporting, CART/captioning, or the ultimate "pajama job" scoping, visit http://www.brscr.com.