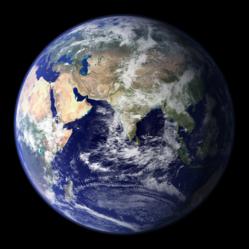 Inspired by Earth Day, eco-tourism emphasizes learning about culture and environments from the local people who know them best.
Ann Arbor, MI (PRWEB) April 19, 2012
The first Earth Day, April 22, 1970, brought the environment into a focus never achieved before. Forty-two years later the epiphany of Earth Day is still alive in the programs and opportunities of companies like JOURNEYS International, based in Ann Arbor, Michigan.
The first image of earth, broadcast by astronauts on the moon and endlessly reproduced by the media, revealed Earth as a blue marble with a thin layer of life spinning through vast, cold space. This beautiful, fragile, lonely image inspired both concern and curiosity. Concern focused on pollution, population growth and destruction of natural areas. Curiosity led people to explore the environment not as conquerors, but as curators.
JOURNEYS grew from the experiences of its founders Joan and Will Weber, who were active organizers of the first Earth Day in 1970 while they were students at the University of Wisconsin in Madison. After college, through serving in the Peace Corps and teaching in Nepal, the Webers witnessed close-up both the threat and opportunity that resulted from visitors with wealth arriving in fragile and endangered environments.
Foreign leisure travel, prior to the 1970s, was very much an exercise in bringing the travelers' own culture, values, foods and accommodation standards with them. The rare Himalayan trek or African safari was a full-scale logistics operation with the burden of extensive imported goods to make travelers feel comfortable and protected from perceived dangers of local people and environments. This kind of travel was highly consumptive of local resources, and served as showcase for the stereotypical "ugly American" values. The inspiration of Earth Day introduced a bit of traveler modesty, fostered a sense of shared stewardship, and affirmed that the wisdom and traditions of other cultures are at least as valuable as our own.
In 1978 JOURNEYS' first trek to the Mount Everest area of Nepal was advertised with fliers at the University of Michigan where the Webers were graduate students. Eight adventurers signed on for a four-week Himalayan trek, followed by elephant-riding in the jungles of Chitwan National Park in southern Nepal. The idea was not to see a place in spite of local obstacles, cultures and environmental adversity, but because the local culture and environment offered unique experiences. The Webers' Sherpa friends from their Peace Corps days were in charge of the 1978 trip, and that first trip cemented a model of sustainable ecotourism that was later extended in trips to India, Bhutan and Sri Lanka, and then to Southeast Asia, Africa and the Americas.
Each eco-tourism trip emphasizes learning about cultures and environments from the local people who know them best. Trips often minimize time in big cities, shun luxury and business hotels and resort-style enclaves in favor of one-of-a-kind inns and nature lodges. You are more likely to travel in 4-wheel drive jeeps, minivans or by hiking and bicycling as preferable alternatives to whirlwind big bus tours. Many JOURNEYS trips support local environmental or cultural projects.
While the national and international prominence and impact of Earth Day as a news event may have faded over the years, institutions like JOURNEYS, and a vast ecosystem of non-profit organizations, private companies, government agencies, ecologically sensitive products, recycling and carbon footprint awareness have all grown from the awareness of Earth as a fragile, finite and destructible home for all known life. Earth Day is our reminder that changing human awareness and behavior is necessary, possible and underway.
Today, on the 42nd anniversary of the first Earth Day, JOURNEYS International offers travel in Earth friendly modes to more than 50 destinations.
About JOURNEYS International:
JOURNEYS International is the longest standing family-owned global ecotourism company in the US. JOURNEYS offers full-service exotic, guided cross-cultural explorations, nature safaris, treks and eco-tours in remote corners of Asia, Africa, the Americas and the Pacific. Founded by current directors Will and Joan Weber in 1978, JOURNEYS boasts an extraordinary record of client and staff satisfaction and several industry awards.