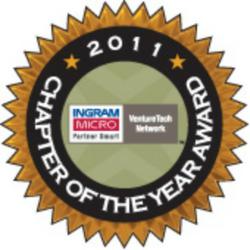 Vienna, VA (PRWEB) April 19, 2012
The Signature Group, Inc., a local technology solution provider and a member of Ingram Micro's VentureTech Network™, today announced it has received the VTN Chapter of the Year Award.
"The Signature Group is honored to be recognized by Ingram Micro's VentureTech Network™ in such a competitive arena," said Rich Dobry, Executive Vice President of The Signature Group. "Our team works diligently to keep our business thriving and ensure the mutual success of our employees, partners and clients. Receiving this recognition makes our work that much more rewarding."
In addition to this accolade, The Signature Group is recognized as an active member of Ingram Micro's VentureTech Network which represents a distinguishable group of the IT industry's top-performing technology solutions providers in North America. Members of this network work together to enhance their businesses, share resources and deliver exceptional IT service capabilities to their local markets throughout North America.
As a VentureTech Network member, The Signature Group receives best-in-class technical and sales support, exclusive information and business development resources, valuable credit and leasing programs, as well as access to the world's largest portfolio of customized technology solutions and services designed to benefit their customers.