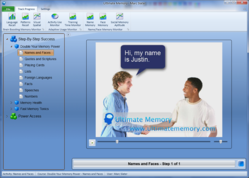 New York, NY (PRWEB) April 19, 2012
Having already dominated the market with their impressive self-improvement software, Ultimate Memory™ today announced a special campaign aiming to improve the mental capacity of American schoolchildren.
Marc Slater, Managing Director of eReflect, the makers of Ultimate Memory™, explains what the campaign entails and what his company hopes to achieve:
"We have noticed that emphasis is often placed on reading and writing, but mental capacity doesn't get the same attention even though it is equally as important," Slater explains.
He continues, "So, we will be urging all education officials to remember the importance of working with children to improve mental acuity. We hope that by running this campaign, American Schoolchildren will be exposed to exercises that will make them more effective and efficient thinkers."
The company's software package is in itself proven to improve memory. Currently being used all over the world, Ultimate Memory™ has already been received by those in the education sector with critical acclaim.
"Our software is currently being used in many education arenas up and down the United States. However, our campaign is stretching much further than our own offering. We want every child to have an opportunity to exercise their brain and improve their memory," Slater adds.
Any interested teachers or educational leaders are invited to contact the company to find out how they can get involved. Information can be found on the Ultimate Memory™ website's contact page.
Ultimate Memory™ isn't alone in its thirst for research. Many U.S-led scientific studies into memory are currently taking place. Ranging from simple memory recall tests to extensive Opogentic research with a focus on memory loss in old age, it would appear that memory is currently a hot topic on the minds of some of the world's leading thinkers.
"Proper research is vital to ensure that both treatments and memory training tools can be developed to the highest standards. We are currently making our small contribution and congratulate the teams conducting scientific studies around the country," concludes Slater.
More information about Ultimate Memory™ can be found online at:
About Ultimate Memory™
Ultimate Memory™ is the market's leading memory improvement software package.
Scientifically proven to improve memory with as little as ten minute's user per day, Ultimate Memory™ is also backed by an iron-clad guarantee.
Containing many innovative strategies, tutorials, tips and exercises, users benefit from a myriad of varied ways to learn.