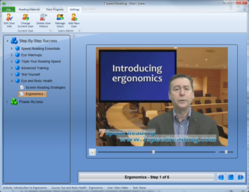 New York City, New York (PRWEB) April 21, 2012
Current statistics show that over 90% of the Western world is literate. However, this doesn't necessarily mean that everyone is frequent reader. Wanting to get everyone stuck into a good book, the creators of 7 Speed Reading™ today announce that it's never too late to uncover the joys of literature.
"The majority of the Western world can read, but this doesn't mean everyone is reading for pleasure. The benefits of social reading are well documented, and it is never too late to start enjoying the pleasures of it" says Marc Slater, Managing Director of eReflect, the creators of 7 Speed Reading™ - a software package that is proven to improve reading speeds.
"With libraries being free, well stocked and local to most people in urban areas – there is an abundance of reading opportunity at everyone's fingertips."
Slater and his team share some top tips for making reading a new-found pleasure:
Read with family
The team at 7 Speed Reading™ has spent many years actively promoting the benefits of families reading together. "The options are endless – from parents reading to their children through to entire families taking turns to read a few pages each, there is a wealth of opportunity for the family to spend some quality time together, turning pages" they say.
Join a book group
Often directly associated with the local library, book groups are a fun and interactive way to enjoy reading. With group members reading alone and then coming together to discuss the book in question, groups can help and support anyone who may be a little older when embarking on their literary pleasure career.
Buy an e-Reader
E-readers are an excellent way to always have multiple books at hand, without the bulk. Modern devices can directly connect to Wifi signals, making downloading books a breeze. With some offering top titles for as little as free – there is no guilt involved if a book isn't to taste.
"We believe that everyone can actively enjoy reading, and that in this day and age there are more opportunities than ever before to get involved."
For more information on improving reading speeds, please visit: http://www.7speedreading.com
******
About 7 Speed Reading™
7 Speed Reading is the only modern speed reading software that uses the latest technology to produce superior results.
The software provides its users with a new way to master speed reading that guarantees three times the reading speed along with improved memory and comprehension.
The software is poised as the most comprehensive speed reading system anywhere. It contains seven learning strategies, fifteen software activities, video training, advanced tracking capabilities and many more exciting features.