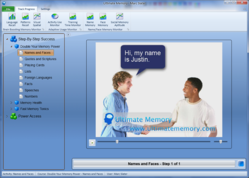 New York City, New York (PRWEB) April 22, 2012
Experts say that just ten minutes of daily mental stimulation can make a huge difference to the brain's capacity and recall ability. With this in mind, Ultimate Memory™ uncovers some interesting opportunities that anyone can exploit in the pursuit of a sharp mind:
The Daily Commute
With Americans often commuting for over ninety minutes each day, the team behind Ultimate Memory™ place it at the top of their list as a time for stimulation. They urge commuters travelling by public transportation to indulge in number and mind games such as Sudoku, word searches and riddles.
Those behind the wheel are not forgotten, either. Ultimate Memory™ suggests that listening to thought-provoking audio or complicated short stories can have a positive effect over time.
Lunch Hour
For even the slowest of eaters, the traditional lunch hour always presents a void of boredom. Ultimate Memory™ suggests that any down-time should be used solving puzzles, debating involved topics with co-workers or reading global news in a daily paper.
The Evening 'Lull'
With the belly full and the dishwasher loaded, Evenings can often become a search-fest for something to do. With most homes containing a computer, Ultimate Memory™ suggests setting time aside each night to work through memory-training software.
In fact, the company is perfectly suited to help with the latter. Having created one of the world's leading memory improvement software packages, Ultimate Memory™ is quickly becoming the program of choice for those looking to keep their mind sharp as life progresses.
As the Managing Director of eReflect, the company behind Ultimate Memory™ explains, effective memory training doesn't have to be a drawn-out chore:
"More and more research is showing that just ten minutes of daily concentrated brain training is all that is required to make a real difference to how the mind works" says Marc Slater.
He continues, "Research is also shedding light on patterns of age-related memory degradation. Therefore, it has never been more important for everyone to find time to keep their mind active in the pursuit of better brain health."
More information about the Ultimate Memory™ software package can be found online at:
******
About Ultimate Memory™
Ultimate Memory™ is the market's leading memory improvement software package.
Scientifically proven to improve memory with as little as ten minute's user per day, Ultimate Memory™ is also backed by an iron-clad guarantee.
Containing many innovative strategies, tutorials, tips and exercises, users benefit from a myriad of varied ways to learn.