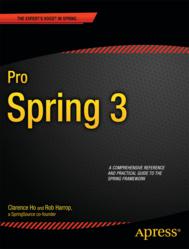 New York, NY (PRWEB) April 19, 2012
There is no doubt that Spring Framework has established itself as the major open source application development framework that makes Java/J2EE(TM) development easier and more productive. Its functionality with other leading open-source, agile and lightweight Java technologies like Hibernate, Groovy, MyBatis, and now Java EE and JPA 2 make the the framework ever more appealing.
Pro Spring 3 by Clarence Ho and Rob Harrop updates Apress's bestselling Pro Spring with the latest that the Spring Framework has to offer: version 3.1. Ho and Harrop take a detailed and simple approach that provides readers with clear descriptions and sample codes demonstratingthe use of Spring in real world applications. The authors discuss the Spring basics and core topics and reveal insights on leveraging the Spring Framework to build various tiers or parts of an enterprise Java application—like transactions, the web and presentations tiers, deployment, and much more. Readers get a full sample application that allows them to apply many of the technologies and techniques covered in this book and see how they work together.
This definitive guide will arm readers with the power of Spring to build complex Spring applications, top to bottom. The book shows not only what Spring can do but also why, explaining its functionality and motivation to help developers use all parts of the framework to develop successful applications.
Readers will be guided through all the latest features that Spring has to offer and see how they form a coherent whole. Pro Spring 3 will equip readers on how to use Spring effectively in everything from simple Web applications to complex enterprise applications. At 1,000 pages, this will by far prove the most comprehensive resource available on the Spring framework.

978-1-4302-4107-2
944 Pages
User Level: Intermediate to Advanced
Publication Date: April 19, 2012
Available eBook Formats : EPUB, MOBI, PDF
Print Book Price : $49.99
eBook Price: $34.99
About the Authors
Clarence Ho is the Senior Java Architect at SkywideSoft Technology Limited (http://www.skywidesoft.com). Working in IT for over 20 years, Clarence started programming with Java in 2001, and has been heavily involved in the design and development of JEE applications with technologies including EJB, Spring Framework, Hibernate, JMS and WS. Clarence performs as a Java Enterprise Architect contributing in various areas including Java EE architectural design, education, providing recommendations on technology solutions as well as application development best practices.
Rob Harrop is a co-founder of SpringSource, the software company behind the wildly-successful Spring Framework. Currently, he is CTO at First Banco. Harrop is the author and co-author of 5+ books.
About Apress Media
Apress Media LLC is a technical and business publisher devoted to meeting the needs of IT professionals, software developers, programmers, and business leaders with more than 1,000 books in print and electronic formats. Apress provides high-quality, no-fluff content that helps serious technology professionals build a comprehensive pathway to career success. For more information about the innovative approach Apress takes to publishing, please visit http://www.apress.com