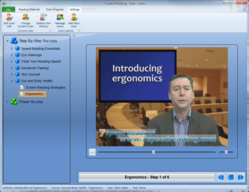 New York City, New York (PRWEB) April 24, 2012
As some market suffers during the first quarter of 2012, 7 Speed Reading™ comes out on a high, reporting a record three months of business.
The innovative software has made its mark as leading tool for those looking to improve reading speed, as well as comprehension and memory skills.
The company is delighted with its success:
"We are not yet in a position to give exact numbers, but we are certainly able to report that the first quarter of 2012 has been very productive for us" says Marc Slater, Managing Director of eReflect, the company behind 7 Speed Reading™.
"It would appear that the United States market is as conscious as ever about the need to improve reading skills, and we're delighted to be the learning tool many of them are choosing to use" he adds.
A quick look at the wider self-improvement industry proves that the entire sector has seen a lucrative start to this year.
Aside from the sale of self-improvement products, many new studies have been commissioned into reading.
Scientific and research teams across the United States are dedicating a large portion of 2012 to the study of reading and the science behind it. With a number of these studies already underway, results are expected to filter into their respective industry journals very soon.
"We are always delighted to hear of new research. It really is a two way street; scientific research helps us shape our software for the future, while at the same time our software helps research teams shape their scientific studies" explains Slater.
This hand-in-hand working relationship could be the recipe for success on both sides of the playing field.
As the year continues, 7 Speed Reading™ is excited about what the future holds.
"We'll be there every step of the way. There is still a lot of hard work ahead before we can bang the gavel on a record-breaking year. However, if this momentum continues we are well on track" Sales concludes.
******
About 7 Speed Reading™
7 Speed Reading is the only modern speed reading software that uses the latest technology to produce superior results.
The software provides its users with a new way to master speed reading that guarantees three times the reading speed along with improved memory and comprehension.
The software is poised as the most comprehensive speed reading system anywhere. It contains seven learning strategies, fifteen software activities, video training, advanced tracking capabilities and many more exciting features.