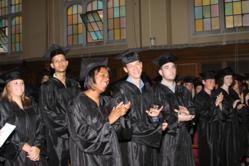 The class of 2012 includes 317 undergraduates and 67 graduate students.
Chicopee, Massachusetts (PRWEB) April 19, 2012
Elms College will hold the school's 81st commencement exercises at 10 a.m. on Saturday, May 19, 2012 at the MassMutual Center in Springfield. The class of 2012 includes 317 undergraduates and 67 graduate students. The college will award 185 bachelor of arts degrees, 132 bachelor of science degrees, 63 master's degrees, and four certificates of advanced graduate study.
Veteran diplomat Mark Gregory Hambley, a retired United States ambassador to Qatar and Lebanon, will deliver the commencement address and receive an honorary degree. He is a consultant on International Matters for Apollo Security International, a Trustee at the London-based Next Century Foundation and a board member of the Middle East Policy Council in Washington, D.C.
Diane Brunelle, a 1984 Elms graduate and the Vice President of Patient Care Services and Chief Nursing Officer at Noble Hospital, will receive the distinguished alumni award. The distinguished alumni award is presented annually to Elms College alumni who have made notable contributions in their lives—professionally, spiritually, intellectually, personally, and through their loyalty to Elms College.
Mary Jane England, M.D., a visiting professor of Health Policy and Management at the Boston University School of Public Health and former President of Regis College, will be awarded the Via Veritatis award. The Via Veritatis medal is presented annually to an outstanding Catholic woman who exemplifies Catholic womanhood and culture at their best, and who has made significant contributions to society.
The college's commencement schedule also includes a senior class gift presentation, honor's convocation, nursing pinning ceremonies, a baccalaureate Mass, and various receptions and award ceremonies. For a full schedule of commencement events, go to http://www.elms.edu/commencement.
The MassMutual Center is located at 1277 Main Street in downtown Springfield, between Falcons Way and State Street. All attendees are asked to enter through the box office entrance located on Falcons Way, just across the street from Civic Center Parking Garage. Parking will be available in the garage for $7.
Elms College is a co-educational, Catholic college offering a liberal arts curriculum that gives students multiple perspectives on life. Founded in 1928 by the Sisters of St. Joseph, Elms College has a tradition of educating reflective, principled, and creative learners, who are rooted in faith, educated in mind, compassionate in heart, responsive to civic and social obligations, and capable of adjusting to change without compromising principle.