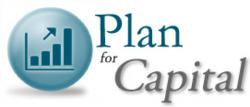 Raise the Capital You Need to Start and Grow Your Business
Phoenix, Arizona (PRWEB) April 19, 2012
Entrepreneurs with a vision to extend business savvy to other aspiring entrepreneurs looking to cash in on that great idea. Plan for Capital is designed to educate, while inspire, like-minded people to turn the blueprint of their dreams into financial success. The website offers an educational video and blog section for a more personal experience throughout each phase of the program.
Plan for Capital believes the key to building a successful business is planning ahead to bring fresh ideas to fruition. Over the last 9 years, Plan for Capital has acquired the most fundamental tools on the market to help entrepreneurs start at go and build to grow. The "Fund Starter Program" is conveniently outlined on the website to save time and money, acknowledging that those two assets are of utmost value to entrepreneurs-to-be with families, as well as individual innovators. Plan for Capital's founders gained credibility with the "Fund Starter Program" by securing over 6 million dollars of funding for one of their own projects within only 30 days.
Implementing the core ideals of Plan for Capital is optimal in securing private investors and venture capitalists looking to fund the next big idea. With a surge in start-up businesses since the U.S.'s economic digression in 2008, investors are now quite particular in choosing a venture to fund, making it essential to understand how the process works to assure the best chance for financial backing to get a business started.
Plan for Capital understands the need for beginner and experienced entrepreneurs to be able to raise ample capital to move forward with expanding their investment, and Plan for Capital strives to make the start-up process much more simplified and effective.
When it comes to helping entrepreneurs plan for capital, think "Plan for Capital!"
Website: http://www.planforcapital.com
Contact: Jeff Janke - Consultant
info(at)planforcapital(dot)com