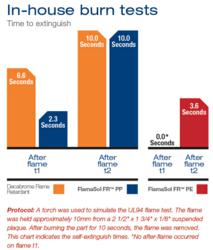 FlamaSol FR contains no decabrome - a harmful chemical found in previous FRs.
Calumet City, Ill. (PRWEB) April 20, 2012
PCC (Plastics Color Corporation), a leading supplier of color concentrates, compounds and additive masterbatches for the plastics industry, has expanded the use of its FlamaSol FR™ proprietary flame retardant technology to polyethylene (PE) formulations. PCC originally launched FlamaSol FR for polypropylene and has additional plans to develop flame retardant systems for acrylic, polystyrene, PVC, and a range of other thermoplastics.
FlamaSol FR contains no decabrome - a harmful chemical found in previous FRs in the marketplace - yet demonstrates better extinguishing results than the company's previous flame retardant. PCC developed FlamaSol as a new option for its customers due to the phase out of decabrome by the end of 2012.
"The expansion of the FlamaSol FR line is important for our customers who are faced with challenges as they seek out effective and safe formulations for their products," said Tim Workman, PCC vice president of business development.
FlamaSol FR is ideal for use in construction materials (electrical conduit, junction boxes, switch boxes), warehouse products (shelving and pallets), personal electronic equipment (computers, printers, and televisions) and other applications where extreme heat may cause ignition. FlamaSol FR surpasses the testing standards of UL 94 and ANSI 4996 for plastic pallets and performs better than PCC's previous flame retardant systems. FlamaSol FR PE is targeted for use in injection molding, extrusion, and blow molding.
FlamaSol FR PE is available in white, black, and natural masterbatches. PCC also offers custom formulations for any color.
About Plastics Color Corporation
Plastics Color Corporation (PCC), headquartered in Calumet City, Ill., is a global provider of colorants, compounds, additive masterbatches and custom polymer solutions for an extensive range of markets including pharmaceuticals, medical, consumer goods and others. PCC supports virtually every type of manufacturing process and material. We engage our customers from concept to commercialization and help them develop new cutting-edge products that lead the market. PCC has more than 40 years' experience in the polymer industry and operates fully-equipped product development laboratories and manufacturing facilities in California, Illinois, North Carolina, and Nanjing, China. PCC's Illinois and North Carolina labs are certified by the American Association for Laboratory Accreditation, A2LA. PCC also provides testing and product development services through our Solutions Center in Asheboro, N.C. For more information, call (800) 922-9936 or visit http://www.plasticscolor.com.