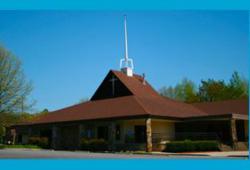 Today people use email, text messages, and even listen to Sunday service online. We knew we needed to provide our congregation with a website that would do all of these things and that is why we chose Pure Web
Atlanta, GA (PRWEB) April 19, 2012
Landmark Church in Norcross Georgia gets a new website from Pure Web. Landmark Church has been in Atlanta since the mid 70's and has seen lots of change. When the church was founded in 1974 it only consisted of a few people meeting in the Pastor's home. Since then Landmark Church has grown into a large group of bold believers. Pure Web was the perfect choice for Landmark because Pure Web is a local Atlanta company that provides excellent service for the dollar.
Technology has changed too and as Landmark has grown it has also had to remain on the front end of the tech edge. Landmark Church was one of the first churches to record every service and make the tapes available to congregants. Landmark Church also adopted a website when websites were hardly the norm. Being a church in 2012 is much different than being a church in 1974. The way information is transferred between people has changed dramatically.
"When we began, back in the 70's, the main way people connected to the church and what was going on was by going to the church and hearing me say it or reading it in the Sunday Bulletin," says Pastor Kelly, "We used to mail out information and getting communications out about important events was an arduous time consuming task. Today people use email, text messages, and even listen to Sunday service online. We knew we needed to provide our congregation with a website that would do all of these things and that is why we chose Pure Web."
Landmark's new website has many new features to further engage members of its congregation. Website visitors can download or stream the current week's sermon or any past sermon from the online archives. Visitors can also submit prayer requests, get directions to the church, keep up with important calendar events, and find out more about the church in general. First time guests will also enjoy the ability to learn about the church prior to visiting.
Pure Web's work with other churches in the Atlanta area gave them the insight to know what features were needed. Pure Web is also very cost conscious and understands the tight budgetary requirements churches have. With giving down across the board churches are having to do more with less and every expenditure of money has to be done wisely.
About Landmark Church
Landmark is a congregation of people filled with the Spirit that is active in reaching out to all our neighbors in the Name of Jesus. We pray to be a city set on a hill, a house of prayer, a house of honor for Jesus and all His children. Landmark Church is located at 3737 Holcomb Bridge Rd, Norcross GA 30092 for more information please visit the website: http://www.landmarkchurch.org