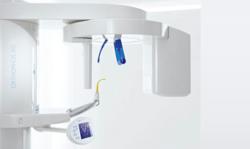 Montreal, Quebec (PRWEB) April 23, 2012
Carrefour Dentaire de Montréal and its team of dental health professionals have been providing unparalleled service for numerous years. They are the recipients of the prestigious Consumer's Choice Award for 7 consecutive years from 2005 and 2011. Its ultra-modern installations coupled with focus on new technology and patient care has contributed in the decision to acquire the Orthophos X4 3D imaging system by Sirona for their dental clinic.
As patients are more and more discerning, they demand the very best care available when it comes to their overall health and particularly their dental health. The integration of 3D imaging in dentistry has revolutionized the industry and become a fundamental tool in diagnosis and treatment.
With this exciting new virtual tool, your CDM specialist will be better equipped to explore your tooth structure in 3D, all the way to the bone. This precise instrument helps to define the exact location of your roots and nerves and provides better visualization that is synonymous with accurate and reliable results. This additional information represents a priceless tool as it helps provide meticulous diagnoses and treatments.
Carrefour Dentaire de Montréal keeps abreast of all the latest trends and technologies that could benefit their staff and dentists and in turn provide superior services to their patients. It is in this spirit that CDM has chosen the trusted Sirona brand for its centre for its time-honoured reputation. Sirona offers up to date support thanks to its exceptional and regularly updated software. Sirona's superior three-dimensional images are obtained using the lowest possible radiation level, an added benefit to the patient for safety concerns regarding overexposure to radiation.
Carrefour Dentaire de Montréal and its entire team of professionals awaits you in its state-of-the-art centre dedicated to excellence and service whether you require generic care or more complex treatments, they have the right specialist for your needs and offer various financing options to get you the smile you deserve.
For more information regarding the Carrefour Dentaire de Montreal, the clinic's equipment, staff, you can visit the website: http://www.carrefourdentaire.com.