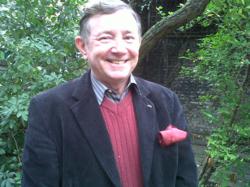 "Mr. Hambley was a natural choice for us," said Elms College President Mary Reap, IHM, Ph.D. "He has devoted much of his life to seeking world peace. His service to others is exactly what we encourage our students and graduates to achieve."
Chicopee, Massachusetts (PRWEB) April 20, 2012
Veteran diplomat Mark Gregory Hambley, a retired United States ambassador to Qatar and Lebanon, will deliver the Elms College commencement address and receive an honorary degree at the college's 81st commencement exercises. The ceremony begins at 10 a.m. on Saturday, May 19, 2012 at the MassMutual Center in Springfield.
"Mr. Hambley was a natural choice for us," said Elms College President Mary Reap, IHM, Ph.D. "He has devoted much of his life to seeking world peace. His service to others is exactly what we encourage our students and graduates to achieve."
A native of Idaho in the Pacific Northwest, Hambley spent 32 years as a foreign service officer for the United States. His specialties during his varied diplomatic career included service as the U.S. Special Negotiator on Climate Change and as the principal U.S. envoy to the United Nations on sustainable development issues. His bilateral assignments included postings as Consul General in Jeddah and Alexandria and as U.S. Ambassador to Qatar and later to Lebanon, with additional service in Amman, Sanaa, Tunis, Tripoli, Cairo and Saigon.
During his diplomatic career and follow-on undertakings, he witnessed first-hand war and civil strife in Vietnam, Iraq, Afghanistan, Lebanon, Palestine and Libya. He writes extensively on issues of political change and development in the region for private circulation and has appeared on panels or lectured at various institutes and universities in North America and Europe including Cambridge, the Sorbonne, and the Universities of California, Washington State, Idaho, Stanford, Harvard and McGill.
Currently, Hambley is a consultant on International Matters for Apollo Security International. He is a Trustee at the London-based Next Century Foundation (NCF) and a board member of the Middle East Policy Council (MEPC) in Washington, D.C. In the former capacity, he travels extensively to the Middle East and South Asia working on issues related to conflict resolution and the striving for human dignity in Afghanistan, Iraq, Israel, Palestine, Libya and Syria.
In February 2012, Hambley was appointed to the Advisory Board of the Iman Foundation which promotes mainstream voices and challenges extremism in an inter-religious, intra-religious and inter-cultural context.
For a full schedule of commencement events, go to http://www.elms.edu/commencement.
Elms College is a co-educational, Catholic college offering a liberal arts curriculum that gives students multiple perspectives on life. Founded in 1928 by the Sisters of St. Joseph, Elms College has a tradition of educating reflective, principled and creative learners, who are rooted in faith, educated in mind, compassionate in heart, responsive to civic and social obligations, and capable of adjusting to change without compromising principle.