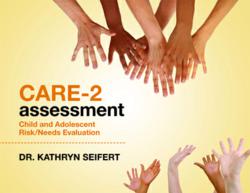 The Care-2 has always been one of the most accurate risk and needs assessments, but never before has it been so easy to use.
Salisbury, MD (PRWEB) April 19, 2012
Within the next month, one of the world's most accurate risk-of-violence and treatment tools will be offered in an exclusively online format. Using new web-based systems, The Care-2 (Child & Adolescent Risk Evaluation) Assessment will be more accessible to juvenile agencies, social service and mental health professionals, and educational institutions, and the data generated from this assessment will help users determine the right treatment and intervention.
The Care-2 is the only assessment of its kind that helps identify a person's unique strengths, stressors, and problems, and offer an intervention plan to counteract their at-risk-for-violence factors. For over five years, the Care-2 assessment has been used by correction and mental health agencies across the country. The creator of these assessments, youth violence and family trauma expert Dr. Kathy Seifert, partnered with Noble Software Group, is thrilled to offer an online platform to use this powerful screening tool.
"This assessment is the culmination of over 30 years of studying the causes of sexual abuse, drug addiction, murder, gangs, domestic abuse, and rape," says Dr. Seifert. "The Care-2 has always been one of the most accurate risk and needs assessments, but never before has it been so easy to use. Now, any agency, large or small, will be able to survey potential youth offenders, record web-based results, and determine the right treatment faster than ever."
The Care-2 assessment measures risk factors associated with violence as well as resiliency factors. Areas covered include personal characteristics, relationships, education issues, family dynamics, and protective factors. Clinicians can complete the assessment and score the form in 15 to 30 minutes. The scored assessment form is then used to complete the Case Management Planning Form. This form helps clinicians gauge the intensity of potential behavior problems and identify the appropriate level and types of interventions needed. This additional planning form is not offered with any other risk-for-violence assessments on the market.
This new product offering will be available within the next month and be offered from Dr. Seifert's website http://www.DrKathySeifert.com. Users will have the option of subscribing to a cloud-based assessment service or an on-premise instillation, providing each agency with the flexibility to choose a deployment strategy that fits best.
For updates on the online version of the Care-2, please visit http://www.DrKathySeifert.com and sign up for her "Stop the Cycle" newsletter.
About Dr. Kathy Seifert.
Dr. Seifert has over 30 years experience in mental health, addictions, and criminal justice work. In addition to creating the Juvenile CARE-2 (Child and Adolescent Risk Evaluation), Dr. Seifert is a writer for the popular Psychology Today website, has been an interview guest on Anderson Cooper 360 and other major TV media, and has lectured nationally and internationally on dealing with stress, violence, anger, and trauma. She founded Eastern Shore Psychological Services, a multidisciplinary private practice that specializes in working with high-risk youth and their families.
To learn more please visit http://www.DrKathySeifert.com.