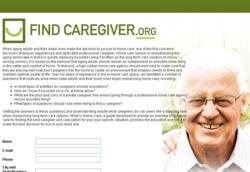 FindCaregiver.org is the most recent addition to our growing community education initiative
Palo Alto, CA (PRWEB) April 18, 2012
Home Care Assistance, the leading provider of in-home care for seniors, is proud to announce the launch of FindCaregiver.org. Recent years have seen a dramatic shift in long-term care solutions for seniors from assisted living facilities and senior residences to professional caregivers providing in-home care that allows aging adults to "age in place" or remain in their own homes as they age. With more and more aging adults opting to stay in their own homes, having an understanding of what in-home care is and having the resources to find dedicated and experienced caregivers has become extremely important. The initiative was fueled by comments from clients and their loved ones that they did not know what home care was or what caregivers did until they came across a "crisis point" in their lives where they needed in-home care services. Having the education around home care and caregivers allows aging adults and their loved ones to make more informed decisions. By completing the brief form on FindCaregiver.org, individuals will automatically receive a free downloadable copy of What Is Home Care, a 19-page guide designed to help seniors and their loved ones understand the basics of in-home care and how to find a reputable caregiver.
Home Care Assistance is a leader in community outreach and education among other agencies, offering an impressive suite of educational resources designed to be practical and relevant to a wide audience, ranging from seniors and their families to advisors and medical professionals who commonly work with older adults. The resources vary in design and scope but are all designed to provide free and practical information to individuals with a desire to learn more about elder care and quality of life in aging. Whether you are the adult child of aging parents hoping to learn more about care options for your loved ones or a senior looking to develop an aging in place plan so that you can age in the comfort and familiarity of your own home, FindCaregiver.org will offer valuable information and tools.
"FindCaregiver.org is the most recent addition to our growing community education initiative," said Kathryn Zakskorn, Public Relations and Marketing Manager of Home Care Assistance. "Home Care Assistance is effectively and professionally providing high quality information around the topics that matter most to aging adults and their loved ones; initial feedback to the initiative underscores that the community is very interested in these topics and appreciates having the information in a practical and easily accessible format."
Home Care Assistance advocates for a positive, balanced approach to aging that meets the evolving needs of older adults. The overarching goal of the educational outreach initiative is to provide the community with information to help individuals better understand their long-term care options.
"Navigating the senior care journey can be challenging for seniors and their loved ones," said Shadi Gholizadeh, Business Operations Manager of Home Care Assistance. "Our mission at Home Care Assistance is to change the way the world ages; providing education around aging in place, such as finding a high caliber caregiver through a reputable agency, is just one way that we help families make optimal care decisions for their needs."
For more information about Home Care Assistance please visit http://www.homecareassistance.com or call 1-866-454-8346.
ABOUT HOME CARE ASSISTANCE
Home Care Assistance is the leading provider of home care for seniors across the United States and Canada. Our mission is to change the way the world ages. We provide older adults with quality care that enables them to live happier, healthier lives at home. Our services are distinguished by the caliber of our caregivers, the responsiveness of our staff and our expertise in Live-In care. We embrace a positive, balanced approach to aging centered on the evolving needs of older adults. A 2012 Franchise500® Company, Home Care Assistance has received numerous industry awards including Entrepreneur's Fastest-Growing Franchises and Franchise Business Review's Top 50. For more information about Home Care Assistance, our services and franchise opportunities, visit homecareassistance.com or franchise.homecareassistance.com.