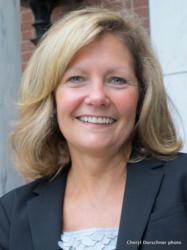 "WellBalance's mission statement falls right in line with my areas of expertise, and I look forward to helping them build healthier communities and families," WellBalance Advisory Board member Jean Harvey-Berino
Asheville, NC (PRWEB) April 19, 2012
Jean Harvey-Berino, Professor of Nutrition & Food Sciences at the University of Vermont and creator of the well-respected online VTrim weight management program, has been named to the Scientific Advisory Board for WellBalance, a leading health organization that runs community outreach programs and health & fitness weight loss camps for adolescents aged 10 - 20.
Harvey-Berino is a highly respected member of the scientific community. Through published research, multimedia delivery of healthy living programs, and her role as educator she has played an integral part in helping people improve their general health. She is currently a Professor of Nutrition and Food Sciences at the University of Vermont, and was the founder of the Vtrim program, a weight loss program for individuals, families, and businesses that uses online and multimedia measures to treat obesity.
"WellBalance is proud to have Dr. Harvey-Berino join our Advisory Board," said John Gordon, CEO for WellBalance. "WellBalance has developed a strong, integrated online program for continued success and we'll look to the expertise of Dr. Harvey-Berino on how to continually improve ways families can make healthy changes remotely."
Harvey-Berino has agreed to advise WellBalance on nutritional concepts and dietary behaviors that enable a client to improve their overall wellness as well as effective ways to deliver better health and support online. Harvey-Berino's knowledge in behavioral methods to treat obesity in adults, and the prevention of obesity in children will be beneficial to those that WellBalance weight loss camps helps on their journey towards leading a healthy lifestyle.
"I very happy to advise WellBalance on the nutritional research that can help their clients lead a healthier life," said Harvey-Berino. "WellBalance's mission statement falls right in line with my areas of expertise, and I look forward to helping them build healthier communities and families."
Dr. Harvey-Berino earned her Ph.D. in Epidemiology from the University of Pittsburgh in 1991. She also earned a M.S. and B.S. in Nutrition from Pennsylvania State University, and has published over 50 articles in a variety of respected academic journals.
###
About WellBalance
WellBalance (http://www.WellBalance.com) designed the ME Plan to Motivate & Educate on what medical research shows works for sustainable fitness, weight loss, and health success. Founded by professionals and guided by experts who have led some of the largest behavioral health, mental health, and treatment programs in the country, WellBalance is working to become the leader with a focus on improving an individual's overall health. WellBalance developed the WellBalance Health Score© to rate a person's overall medical, emotional, and fitness health status as well as show a person's progress towards health norms. WellBalance operates summer camps, local programs, and fitness programs for adults. For additional information please visit http://www.wellbalance.com or call (800) 975-0435.