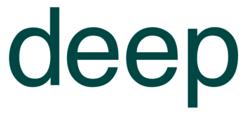 At deep, we believe in purposeful creative.
Springfield, MO (PRWEB) April 20, 2012
The foodservice product and food marketing group deep announced it has completely revamped its website. The new site provides insight into deep's success with digital and print ad campaigns, product branding and packaging, direct marketing promotions and other persuasive advertising services. Users can learn about deep's marketing philosophies, take a virtual tool of their offices or review case studies from foodservice marketing campaigns for global brands like Otis Spunkmeyer, Nestlé Professional and Lamb Weston.
Vice President/Creative Director Dan Stewart noted the purpose of deep's new website: "The redesign of our website showcases deep's commitment to creating foodservice marketing solutions that effectively build brands. The new site demonstrates our ability to create great creative in any medium while maintaining sophisticated and engaging work to fuel great brands to the next level." Stewart also stated that in such a competitive industry, "deep must have an online presence that first and foremost stands out, but it's imperative that it be simple to navigate as well."
With custom illustration and smoothly animated transition states, deep's site-wide menu navigation provides users a unique and interactive experience unlike any competing websites. For users considering which ad agency or food marketing group to choose, the site also features intuitive architecture and design that lets people quickly find the information, services and work examples they want.
The portfolio section of the site includes print ad campaigns for brands such as Nesquik and Otis Spunkmeyer, product branding and packaging for brands such as Chef-Mate, identity design for Nescafé and others, direct marketing promotions for the likes of the National Heart Association and Perugina and other impressive work in various marketing mediums. So users can study the intricate details of each piece, the portfolio features large, high-resolution images.
As a full-service creative and marketing group, deep offers a broad spectrum of services:

National/Key Account Development
Culinary Expertise
Innovative Marketing
Public Relations
Brand Strategic Services
Creative Services
Interactive and Online Marketing
Market and Consumer Insights
Media Planning
When discussing the goals deep can achieve with its improved website and online presence, Stewart summed it up well: "At deep, we believe in purposeful creative. That's reflected in hardworking and effective creative solutions that build brand awareness and loyalty on a national and international basis for our clients. Our improved site will impress and entice new clients, which will in turn give us the chance to put our expertise and experience to work for them. Great work is contagious. It's what we live for and what we do best."
For more information, contact deep at 417-885-4500 or at creative(at)deepgroup(dot)com.
deep
Deep is a leading food marketing agency founded in 2005 with expertise in foodservice and B2B marketing. They create breakthrough work for national and international clients to engage the consumer and keep the brand top of mind. Headquartered in Springfield, Mo., deep is independently and 100 percent employee owned as a part of Marlin Network, which represents more than 70 food and beverage brands and is the number one purchaser of foodservice media. As a member of the global Transworld Advertising Agency Network, the company was also included in Inc. Magazine's list of America's Fastest Growing companies in 2010 and 2011. Marlin Network includes Marlin, deep, The Alchemedia Project, FoodIQ, STARAwards and Marlin Network Consulting. For more information visit deepgroup.com or follow them on Twitter, Facebook, Flickr and the b!eep blog.