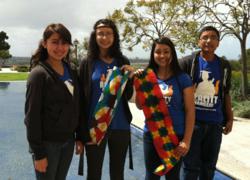 "Reality Changers is a model - not for the city, not for the state, but for the country." U.S. Secretary of Education Arne Duncan
San Diego, CA (PRWEB) April 18, 2012
Reality Changers' inner city youth are excited to have a role in 14th Dalai Lama's first visit to America's Finest City - San Diego. This past weekend, Reality Changers' students created peace banners that will be presented to the Dalai Lama during his visit at the University of San Diego for a symposium on "Cultivating Peace and Justice" on April 18th.
"We appreciate to be able to take part in this historical event at the University of San Diego. Reality Changers students are encouraged to actively participate in their community and know that their actions can make a global impact. The Dalai Lama is a perfect example of this teaching.," states Christopher Yanov, Founder and President of Reality Changers.
San Diego State University, UC San Diego and the University of San Diego are honored to host His Holiness the 14th Dalai Lama's first visit to America's finest city. Working under the leadership of Lama Tenzin Dhonden, the Personal Peace Emissary to His Holiness the Dalai Lama, the Dalai Lama San Diego Planning Committee has planned a two-day symposium that will provide a thought-provoking forum to inspire new discoveries and expand our understanding of humanity. His Holiness will share his views on upholding ethics, practicing forgiveness and tolerance, and coping with the challenges found in today's society.
Reality Changers' mission is to provide inner-city youth from disadvantaged backgrounds with the resources to become first generation college students by supplying academic support, financial assistance, and leadership training.
To learn more about Reality Changers, please visit their website at http://www.realitychangers.org or contact Marshela Salgado, Vice-President of Communications via phone at (619) 516-2222.