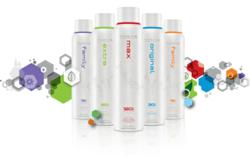 Thrive Adaptogenics uses the power of natural bioactives to deliver a remarkable range of health benefits
PROVO, UT (PRWEB) April 20, 2012
Morinda Bioactives (formally Tahitian Noni International) released a new line of products called Thrive Adaptogenics at their 2012 International Leadership Conference Salt Lake City, Utah. The Thrive Adaptogenics line was previously known as Tahitian Noni Bioactive Beverages but now also includes two new additions¬ - Thrive Adaptogenics Max and Max Concentrate.
Thrive Adaptogenics uses the power of natural bioactives to deliver a remarkable range of health benefits—without unwanted side effects. These bioactives are sourced naturally from potent, validated medicinal plants. They are never isolated, modified, or synthesized.
Iridoids are powerful phytochemicals produced by plants as a defense against infection, disease, and other threats. When consumed, they offer similar benefits to people. Researchers have published thousands of papers on the health benefits of Iridoids. Visit pubmed.gov and search "Iridoids" for more information.
That's not all. Not only are the iridoids in Thrive Adaptogenics healthy, they're also remarkably stable. Their chemical structure is inherently strong, which means they retain their health benefits even when exposed to heat and light and when stored over long periods of time. All Thrive Adaptogenics supplements are guaranteed to maintain potency for a minimum of two years in an unopened bottle.
For more information about Thrive Adaptogenics or Morinda Bioactives, please visit http://www.morinda.com
About the Company
Morinda Bioactives (formally Tahitian Noni International) is a global, research-driven bioactive products company that was the first to introduce the health benefits of the noni plant—a bioactive-rich, adaptogenic plant, containing iridoid compounds—to the world outside of Tahiti. Morinda Bioactives is the leader in the discovery, development, manufacturing, and marketing of noni-based bioactive products including nutritional supplements, beauty, and weight loss lines. Headquartered in Provo, Utah, Morinda Bioactives is the world-wide leader in bioactive supplements.
# # #