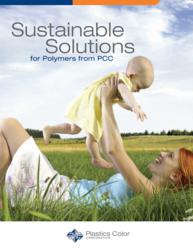 EcoPure additive accelerates the biodegradation of traditional petroleum-based plastics in a biologically active landfill.
Calumet City, IL (PRWEB) April 23, 2012
PCC (Plastics Color Corporation), a leading supplier of color concentrates, compounds, and additive masterbatches for the plastics industry, has signed a joint agreement with Bio-Tec Environmental LLC, Albuquerque, N.M., developer of EcoPure® bio additive, which establishes PCC as the primary manufacturer and seller of Bio-Tec's patent pending additive technology for the plastics market in North America. EcoPure promotes biodegradation of traditional polymer systems in biologically active landfills. The company made the announcement at NPE 2012: The International Plastics Showcase, April 1-5, 2012 in Orlando, Florida.
"We're excited about our relationship with Bio-Tec Environmental and their proven technology that is rapidly gaining traction in international markets," said PCC President Doug Borgsdorf. "EcoPure is a game-changing technology and is at the forefront of creating totally new environmentally-sound solutions for plastics."
Under the agreement, PCC will develop new client relationships and handle sales, marketing, and manufacturing of the EcoPure additive in North America. The company will also incorporate EcoPure in its range of SoluPur™ sustainable product solutions including additives, compounds, color concentrates, liquid color, and masterbatches. Bio-Tec Environmental will continue to handle supply of some existing customers.
"The agreement with PCC is an important development that will serve to drive the adoption and commercial use of EcoPure throughout North America," said John Lake, Bio-Tec co-founder and CEO.
The agreement with Bio-Tec Environmental further extends PCC's strategic goal to develop sustainable material solutions for its customers. It expands PCC's eco-enhancing product line which includes SoluPLAs, a full line of materials that improve the properties and aesthetics of PLA, and a line of color concentrates made from various levels of post-consumer regrind and industrial waste.
EcoPure additive accelerates the biodegradation of traditional petroleum-based plastics in a biologically active landfill. When EcoPure is added at approximately 1% in the finished part during the manufacturing process, the product will degrade when disposed in a microbe-rich environment such as a biologically active landfill. EcoPure breaks down plastics into inert biomass, methane, and carbon dioxide.
The addition of EcoPure does not negatively affect the manufacturing process or the physical properties of plastics. According to ASTM D5511 test results, Eco-Pure accelerates the biodegradation of plastics when introduced into biologically active landfills. The additive is compatible with various resins including polyethylene (PE), polyethylene terephthalate (PET), polypropylene (PP), polystyrene (PS), nylon, polyvinyl chloride (PVC), ethylene vinyl alcohol (EVOH), and polycarbonate (PC) among others.
PCC will initially manufacture EcoPure at its Asheboro, N.C., facility but Borgsdorf noted that the material can be produced at all of PCC's North American facilities.
About Plastics Color Corporation
Plastics Color Corporation (PCC), headquartered in Calumet City, Ill., is a global provider of colorants, compounds, additive masterbatches and custom polymer solutions for an extensive range of markets including pharmaceuticals, medical, consumer goods and others. PCC supports virtually every type of manufacturing process and material. We engage our customers from concept to commercialization and help them develop new cutting-edge products that lead the market. PCC has more than 40 years' experience in the polymer industry and operates fully-equipped product development laboratories and manufacturing facilities in California, Illinois, North Carolina, and Nanjing, China. PCC's Illinois and North Carolina labs are certified by the American Association for Laboratory Accreditation, A2LA. PCC also provides testing and product development services through our Solutions Center in Asheboro, N.C. For more information, call (800) 922-9936 or visit http://www.plasticscolor.com.