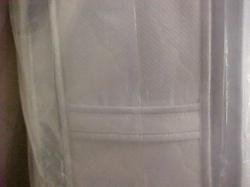 Clark, New Jersey (PRWEB) April 19, 2012
In the past, all mattresses were made double sided. However, in 1995 Simmons company introduced the concept of single sided pocketed coil mattresses. They believed that the single sided mattress was superior to the double sided for various reasons which are less motion disturbance and less ware and tare on the mattress. Sleep is an important activity for everyone. If there is too much motion disturbance in your bed while trying to sleep, you will more then likely not have an restful night. Ware and tare comes into play due to the fact that firm foam is supplied on the bottom of the springs as opposed to the 50/50 split of softer materials top and bottom. Since close to double the materials of softer foams are supplied on top of the springs this allows for less ware on top and none penetrating of materials on the bottom. This logic sounds very beneficial.
Other known facts of applied to double sided flipped mattresses are they have withstood the test of time. Years ago when all mattresses were made double sided, it seems they have had a superior longevity value of usage. Warranties on mattresses were also extended back then. Then norm was 15-20 years as opposed to 10 years
Hearing a sales person mention that single sided is far more superior due to the fact that you will not have to be bothered by flipping is persuasion at its best. Use your own judgement for getting the best most comfortable and long lasting mattresses which is available to you.
At Custom Bedding – Orange Mattress company in Clark NJ we have mostly double sided custom and non custom mattresses on display. Lying down to try the mattresses and intuition on longevity and value are your optimum assets for making your decision. Please visit us at 77 Central Ave. Target Shopping Center in Clark, NJ to meet with one of our friendly staff members or visit the web site at http://www.mycustombedding.com.
{Simmons web site, Custom Bedding}