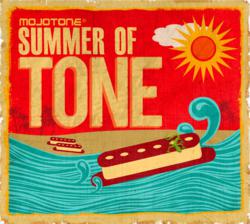 Burgaw, NC (PRWEB) April 24, 2012
For more than 18 years, Mojo Musical Supply™, located in Burgaw, NC, has been a leader in custom built guitar and bass amp cabinets, and now they are proud to announce their top of the line Mojotone® pickups. Designed for both guitar and bass, the Mojotone® pickups are the centerpiece of their "Summer of Tone" and they are the inaugural entry in the Pickup of the Month Campaign.
During each month of this 2012 campaign, Mojo Musical Supply™ will spotlight one of their seven styles of guitar and bass pickups and offer a special deal to consumers for that month's featured pickup. These custom wound pickups are the perfect way for a player to stand out with an amazing sound all their own.
With the near limitless combination of magnets and wire types, the Mojotone® pickups can be designed to fit any style or sound application. Whether a player is looking for the sounds of the smoothest bass, pure rockabilly twang, or the crunchiest metal guitar, Mojotone Pickups can make it happen.
As part of the Summer of Tone campaign, Mojo Musical Supply™ will be giving overviews and sound clips of their various pickups to let players know exactly what this upgrade can do for their instruments. The team at Mojo Musical Supply™ is proud to run the Summer of Tone promotion and show off the unique and innovative products that they have worked so hard to create. Guitar and bass players are invited to take part in the Summer of Tone promotion and hear the difference.
About the company:
Mojo Musical Supply™ has been in business for over 18 years as an amplifier cabinet manufacturer and amplifier parts supplier. Through the years, the Mojotone® line has grown to include all parts of the vintage, boutique and current production tube amp market. In addition, Mojo offers a complete line of guitar parts, pickup parts and guitar restoration supplies - including their own line of Mojotone® Custom Wound Pickups and a Signature Series featuring pickups designed by renowned techs, Lee Dickson and René Martinez.
Having both East and West coast manufacturing centers, Mojo Musical Supply™ builds cabinets for over 100 boutique amplifier companies and routinely ships over 1,000 cabinets a month. Their quality is unsurpassed and their experience in guitar amplification, technical design, and customer dedication is outstanding.
Mojo Musical Supply™ is committed to the highest standards of integrity, excellence and performance in dealing with both their client companies and individual customers. For more information visit their website at http://www.mojotone.com.