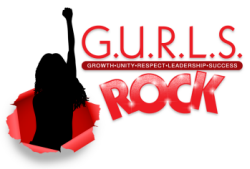 G.U.R.L.S. Rock and I are grateful to my Harvard alumni community for its encouragement, support and participation in the highly-anticipated Global Leadership Project.
San Francisco Bay Area, CA (PRWEB) April 19, 2012
Oakland, CA-based G.U.R.L.S. Rock Leadership Program provides a sneak preview of its landmark GLOBAL LEADERSHIP PROJECT 2014, a program that will prepare girls 12-18 to become global leaders by actually participating in a global journey of change and leadership. As a participant in Harvard University's Global Month of Community Service in April, G.U.R.L.S. Rock Leadership will host a girls' leadership summit in partnership with the Allen Temple Baptist Church Youth Services Department. Sessions will run from 10:00 a.m. to 1:00 p.m. on Saturday, April 28, 2012 at Allen Temple Baptist Church, 8501 International Blvd, Oakland, California. "G.U.R.L.S. Rule the World Summit" attendance is free and snacks will be provided. Pre-registration is required. Register online at http://www.gurlsruletheworld.eventbrite.com or email raye@gurlsrock.org.
Dr. Raye Mitchell, Harvard Law School graduate and founder of the G.U.R.L.S. Rock Leadership Program said, "We are grateful to my Harvard alumni community for its encouragement, support and participation in the highly-anticipated GLOBAL LEADERSHIP PROJECT 2014." During Saturday's program, Harvard alumni volunteers will be among those who will coach the girls to be confident public speakers; understand the role and opportunity of global travel; and explore college admissions. They will also provide tips on how to get a movement started and funded.
Dr. Mitchell continued, "We welcome Harvard alumni to Allen Temple Baptist Church to assist as Allen Temple and G.U.R.L.S. Rock support girls and young women to be global leaders." Allen Temple Baptist Church is in the heart of a diverse Oakland community and is a model example of community service and engagement. The church is a leader providing resources and access to opportunity for the community on a variety of life-wellness programs, including health and fitness, educational opportunity, social justice, leadership training and youth engagement.
G.U.R.L.S. Rock is preparing to launch its biggest venture ever—GLOBAL LEADERSHIP PROJECT 2014. During the "G.U.R.L.S. Rule the World Summit" on April 28th, San Francisco Bay Area girls and girls from around the country will be introduced to the project and gain an opportunity to enter the competition for a chance to join the G.U.R.L.S. Rock team to travel abroad and learn global leadership skills. The winners will receive a free travel passport and the winners and a guardian will each receive travel expenses to be a part of the leadership team. The project will also provide a unique opportunity for mentors and volunteers to travel for a cause. They will be able to turn their ordinary vacations into fun-filled global adventures while helping girls experience the world as future global leaders.
GLOBAL LEADERSHIP PROJECT 2014 is a multi-platform project that combines leadership training, travel, and community engagement. A group of motivated girls, mentors and volunteers will embark on a global leadership journey. They will learn and exchange leadership skills and return home to generate a local impact project by being a part of a film project and being co-authors of a book on global leadership written by girls and for girls. The girls will directly apply their lessons in leadership and their global vision to deliver local impact. The leadership journey will be fully paid for by G.U.R.L.S. Rock supporters and the social entrepreneurial work of the participating girls themselves.
Previewing the project as part of the Harvard Global Month of Service is an opportunity for the girls to connect to resources that allow them to excel as global leaders. "We are serving a community of 'success-ready' leaders that simply need tools and training to achieve their goals. It is an ambitious, but highly valuable program and we'll be reaching out to our community, corporate sponsors and my Harvard alumni community to help raise the funds" Mitchell said.
The G.U.R.L.S. Rock Leadership Program will release more program details during the Summit on Saturday, including G.U.R.L.S. Rock's participation in the invitation-only 2013 Passport Party during which 10 girls from G.U.R.L.S. Rock will win a free travel passport. As official travel sponsor for Passport Party 2013, Expedia® will host a contest for participants after 100 girls have received their first passport. Six contest winners will earn a free trip to an international destination, accompanied by a parent or a legal guardian.
ABOUT G.U.R.L.S. ROCK:
Founded in 2010 by Harvard Law School practicing attorney-turned-social entrepreneur Dr. Raye Mitchell, G.U.R.L.S. Rock Leadership Program is a global leadership-training initiative of The Making a New Reality Foundation, a 501(c)(3) tax-exempt organization. As a social entrepreneur program celebrating the importance of girls and girls of color as the next generation of global leaders, Oakland, California-based G.U.R.L.S. Rock has a different approach to supporting the growth and development of girls of color ages 8 to 18. "G.U.R.L.S." stands for Growth, Unity, Respect, Leadership, Success. To learn more about the G.U.R.L.S. Rock Leadership Program, please visit http://www.GurlsRock.org and http://www.fb.com/GurlsRockPower.
Dr. Mitchell is available for speaking engagements on innovative change, social entrepreneurism and global leadership for women and girls; book signings; and print and broadcast press interviews. Please contact LaNiece Jones | LAJones(at)LAJonesMedia(dot)com | 510.568.5899 or Toni Beckham | Toni(at)PRetCetera(dot)com | 209.832.8020 / 408.499.3664c
-END-