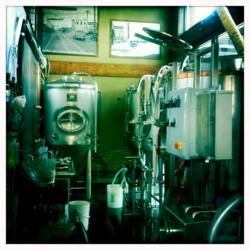 An icon, a must, something to check off your To Experience Before You Die list. -Portland Picks
Portland, OR (PRWEB) April 23, 2012
Old Town Pizza on NE MLK Blvd. was set to launch its 7 barrel brewery in mid-March, however a fire two days before the event caused the restaurant to close immediately. On Thursday April 27, Old Town Pizza will officially reopen.
Out of business for more than six weeks and with over $300,000 in repairs completed, Old Town Pizza will now be able showcase their newly crafted beers.
To the rescue were two local businesses while Old Town was down. Rock Bottom Brewery shared their space with Head Brewer, Scott Guckel, to develop a collaborative S.T.E.A.M beer that is now available at both locations. Aviary Restaurant kindly hosted a benefit dinner paired with Old Town Brewing Company's new craft beers.
Old Town Pizza is welcoming the neighborhood to join their staff for free appetizers from 5-7pm on Thursday, April 27. On tap will be the brewery's Pale Ale, IPA, American Wheat, Stout, Irish Red, Winter Ale, S.T.E.A.M., and Porter.
Established in 1974 with the opening of its original landmark location in Old Town's Merchant Hotel building, Old Town Pizza is a Portland legend known for its incredible pizza, cozy atmosphere and bustling happy hours. With two locations and a brewery, the restaurant has garnered attention from shows like Rachael Ray's Tasty Travels, The Tonight Show, and The Travel Channel. "An icon, a must, something to check off your To Experience Before You Die list," says Portland Picks.