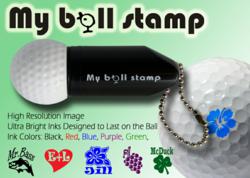 "We are confident that this is the best golf stamp available on the market. The quality of the construction and materials exceeds expectation." said Luke Glinski, Promarking CEO.
Danvers, MA (PRWEB) April 19, 2012
Promarking is proud to present the MyBallStamp, a high resolution customizable golf ball stamp for identifying your golf ball during the game. The stamp comes in a choice of five ultra bright inks that have been formulated to stay on the ball during the demanding golf environment. The inks come in black, red, blue, green and purple colors and can be removed completely without any discoloration to the ball. The stamp is pre-inked for many thousands of impressions, and can be easily refilled with only a few drops of ink to the inside of the stamp. The stamp comes in an attractive box along with additional ink for many years of use.
The stamp makes for an affordable personalized golf gift or a practical golf accessory to your golf gear. It can be customized with logos, text and even complex designs with a resolution of up to 600x600dpi. The http://www.myballstamp.com website has been designed to facilitate the customization and ordering process, with the ability to choose from over a hundred stock images or the option to upload your own designs, image or text. The website provides a secure shopping cart with the latest security technology to ensure that customer's private information remains protected.
Promarking is a Massachusetts based manufacturer and distributor of marking products; including golf ball stamps, pen-stamps and office stamps. Promarking offers unique and innovative marking products, fabricated with sustainable and green manufacturing technologies.