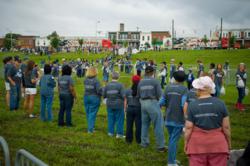 Springfield, Mo. (PRWEB) April 18, 2012
Convoy of Hope is partnering with a number of businesses and organizations to hold the 2nd annual Restore Fest in Joplin, Mo., May 26-27. Restore Fest 2012 will include 20 musical acts and a family oriented community carnival to celebrate restoration and growth in the Joplin community.
"Restore Fest 2012 is a celebration of everything that has been accomplished in the Joplin community this past year," says Jeff Nene, public relations director for Convoy of Hope. It is a chance for us to bring the people of Joplin together and because of the generosity of our corporate sponsors, make these tickets affordable for the entire family.
The two-day concert is part of the The Convoy of Hope 50-state community outreach tour that will stop in Joplin on May 26. Volunteers will provide thousands of people with services such as free groceries, hot meals, haircuts, health & job fairs and many activities for children.
The city of Joplin has declared May 26 as 'Convoy of Hope Day' to recognize the organization's effort to provide assistance to its citizens as they continue to recover from the May 2011 tornado.
Reserved and general admission tickets for the two-day festival are available at a greatly reduced rate for a limited time only. Restore Fest 2012 tickets can be purchased online at http://www.restorefest.org. The website also provides complete concert line-up and event information. Featured artists include Jeremy Camp, Mandisa and Superchick.
Corporate sponsors making these reduced tickets available to families include Mercy St. Johns, Therapy Support and First Christian Church of Joplin. Both Restore Fest and The Convoy of Hope community outreach will be held at Joplin's Landreth Park.
# # #
Convoy of Hope personnel are available for media interviews to discuss the event along with this special promotion.
To schedule interviews:
Jeanne Hamilton
Convoy of Hope/Event and Public Relations Coordinator
O-417-851-4424
jhamilton(at)convoyofhope.org
W-convoyofhope.org
Jeff Nene
Convoy of Hope / Senior Director/Public Relations -- Public Relations Officer
O-417.823.8998 Ext. 4425
C-417.860.2196
jnene(at)convoyofhope.org
W-convoyofhope.org
Convoy of Hope, founded in 1994, is a faith-based organization with a driving passion to feed the world through children's feeding initiatives, community outreaches, disaster response and partner resourcing.