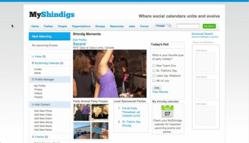 MyShindigs.com is beneficial in that it allows people to interact with other creative event entrepreneurs as well as local and out of town vendors...
Boston, MA (PRWEB) April 19, 2012
In an election year and in the midst of a political climate where Democrats and Republicans squabble about which party caused the greatest job loss for women during whose administration MyShindigs is actually doing something tangible to enable job growth by providing a free platform for event and party planning professionals.
MyShindigs is gaining popularity and users are quickly discovering the beneficial features that it has to offer users. The website is regularly adding new and innovative social networking features to assist users for both recreational as well as professional use. Some of these new features are what allow event professionals to plan, organize, broadcast, promote and manage their parties and events. There are many helpful on-site tools that allow for collaboration with peers and assist in connecting event organizers with local service providers.
Ebonee Chalmers is one such avid member of MyShindigs based out of the D.C. area. Ebonee discovered that her true passion and talent lies in creating events. It is through event planning that she most enjoys the ability to cater to many cultures, ethnicities and personalities. No event is too over-the-top or too simple. She grew up in a family of event planners; not only her mother but her grandmother before her also planned and catered many events and weddings. It is in her blood, and this is where she draws her inspiration. `Creating wonderful and amazing memories is my passion and purpose in life. It does not matter if I am planning a wedding or business meeting, it is my aim to make the customer smile and create a memorable experience for all. In this evolving industry you must be open and surround yourself with other creative event entrepreneurs. You must develop new trends and embrace new trends facilitated by others. MyShindigs has been beneficial in that it allows me to interact with other creative event entrepreneurs as well as local and out of town vendors' says Ebonee.
MyShindigs co-founders Jason Andrews and Matthew Tautt have built and continue to grow an all-encompassing user friendly website that provides entrepreneurs with the necessary tools and functionality that will help entrepreneurs to maximize their business potential and realize their dreams. In Ebonee's case her dream is organizing events and weddings. 'It is our hope that the young and flourishing community of event and party planners will support one another in their pursuits by connecting and exchanging information that will ultimately result in more successful entrepreneurial endeavours, not to mention bigger and better parties and events' say co-founders Jason and Matthew.
The website has many event and party planning and facilitation tools from a resource area where things like budgeting templates can be posted and shared to forums where knowledge transfer is made possible to the posting of local parties and events on all user home pages for promotion.
In a world filled with political strife and rhetoric, what is needed is less talk and more action. The constant pointing of fingers and laying blame is further procrastination from tackling the real issues plaguing our world. Promoting entrepreneurship and assisting job creation are vitally important in stimulating the U.S. and world economies. In the social media space, MyShindigs.com is one such company that is seeking to support entrepreneurs in the event and party planning space. MyShindigs is a company that strives to do its part to support the goals, dreams, and aspirations of energetic up and coming entrepreneurs and like Ebonee Chalmers and other MyShindigs members across the United States and around the world by providing them with the necessary tools to help achieve business success.
About MyShindigs
MyShindigs is a social networking platform that specializes in allowing members to plan, organize, manage and promote their public, private and company events and parties. MyShindigs allows users to search out, share, follow and join each other's events and parties of interest to expand their social calendar throughout their lives. For more information, visit http://www.myshindigs.com.