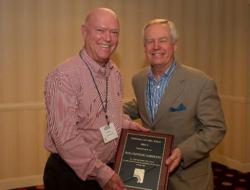 Atlanta, Georgia (PRWEB) April 18, 2012
March 30, 2012, Rick Byrd, Dura Supreme's National Sales Manager (shown at far left), accepted the award on behalf of the company. "Not only was Dura Supreme #1 in 2011 SEN Member Purchases," commented Peterson, "but they also sponsored the greatest number of Members for our business coaching services which has helped these kitchen and bath companies to increase revenue, increase margins, and increase their bottom lines. With dealers struggling to emerge from the shadows of the Great Recession, this is one cabinet company that stepped up to give our Members what they needed in support to be successful. They have been an exceptional marketing partner for the group."
About Dura Supreme:
For over 60 years, professional kitchen designers from coast to coast have looked to Dura Supreme for cabinetry that fulfills their customer's desire for personalized choices and outstanding quality of construction. The company now employs over 550 people in a 220,000 square foot manufacturing facility located west of Minneapolis. Company owner Keith Stotts (son of the original founder) continues to lead the company based upon the guiding principles of quality innovation and customer support that were established from the beginning back in the 1950s. For more information, please contact Rick Byrd at rbyrd(at)durasupreme.com or visit http://www.durasupreme.com.
About the SEN Design Group:
The SEN Design Group, based in Chapel Hill, NC, has over 200 kitchen and bath member firms from coast to coast. There are over 130 vendors in cabinetry, appliances, plumbing fixtures, lighting, decorative hardware, tile, flooring, accessories, and bathroom products affiliated with SEN that make their products available to the members at group buying rates, including volume rebates based upon the group's sales performance. They also receive business management training, networking opportunities, automated management system and have access to business coaching services, showroom design services, peer counseling at roundtables, financial comparison reports, sales training, and marketing tools that all help to furnish superior customer service while bettering their bottom lines. For more information, please contact Ken Peterson, CKD at 800-991-1711 (Fax: 919-933-6648 E-mail: kpeterson(at)sendesign.com) or visit http://www.sendesigngroup.com.